News
GTFO: Release Date, Trailer, Gameplay, and News
Everything you need to know about GTFO, including latest news, release date, trailers, and much more!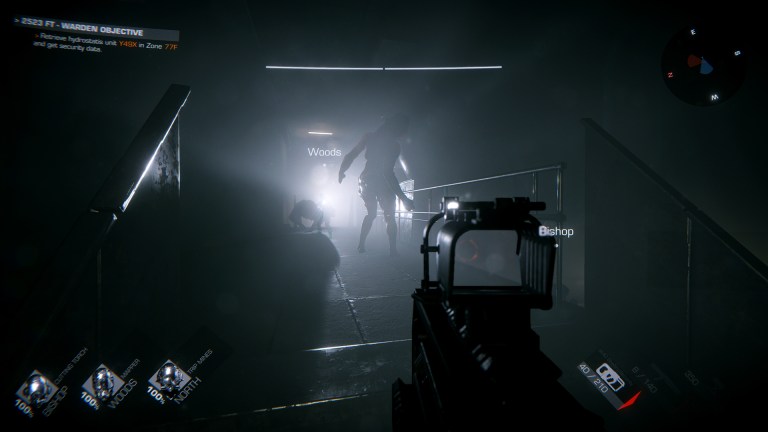 The designer of Payday and Payday 2, Ulf Anderson, has started a new studio called 10 Chambers Collective. His first project will retain Payday's four-player co-op gameplay but will add an element of horror that only exists in Payday when someone screws up the vault drill. 
GTFO is described as a "terrifying 4 player co-op game for hardcore FPS players." It sees a team of four scavengers explore various locales in an effort to extract valuable artifacts. Standing in their way are some truly horrifying monstrosities that seem to be quite keen on eating human beings when they get the chance to do so. 
We're not sure what's behind the miniature resurrection of four-player co-op shooters, but this one does feature a few elements that have us undeniably intrigued. Not the least among them is that awesome synth soundtrack that played over the game's debut trailer. 
However, it's really the design of the game's monsters that deserves the most attention. This isn't the usual army of zombies but a series of utterly bizarre creatures. Actually, it feels like there might be a hint of Starship Troopers in the design of the enemies and the style of action. 
Here's everything else you need to know about GTFO:
GTFO Release Date
GTFO will release on Steam Early Access on Dec. 9. It is only available on PC at the moment. 
Further Reading: 25 PC Games That Changed History
GTFO Trailer
It's been a little while since we've last heard anything about GTFO, but this latest preview offers a developer walkthrough of the title's exciting gameplay:
And here is the debut trailer for GTFO:
The trailer showcases a few gameplay hints that suggest this will be a rather deep action experience. For instance, it appears that players can set-up basic defenses when things go wrong and access a kind of x-ray scouting device that provides a brief glimpse at what lies ahead.
Also of note is the way that GTFO incorporates story into the missions. Your crew of scavengers clearly know each other well and seem to make quite a few references to prior events and the current situation via in-game dialog. 
Matthew Byrd is a staff writer for Den of Geek. He spends most of his days trying to pitch deep-dive analytical pieces about Killer Klowns From Outer Space to an increasingly perturbed series of editors. You can read more of his work here or find him on Twitter at @SilverTuna014.