News
GTA Online Diamond Casino and Resort: Release Date and Trailer
GTA Online's casino is finally opening its doors. Here's the release date and trailer for the Diamond Casino and Resort update: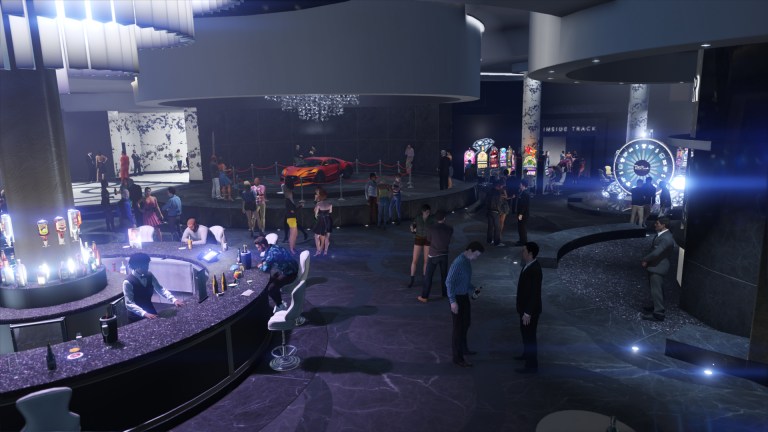 The long-awaited release of the GTA Online casino update finally has a reveal trailer that gives us a glimpse of what we can expect from Rockstar's latest addition to the constantly updated game. 
For those who don't know, GTA Online players spotted a casino in the game's online world quite some time ago. However, the casino appeared to be boarded up, under construction, and essentially useless. Needless to say, this struck many members of the game's sizeable fanbase as odd given the potential of a casino in this world. 
Well, we now know that the Casino will be opened as part of GTA Online's The Diamond Casino and Resort update. The update focuses on the titular casino and the players efforts to help its current owner fend off advances from a rival group. That plotline will add some new missions to the game which seem to include an appearance from beloved GTA IV character, Brucie. 
The Casino itself will also offer the usual array of amusements which include Poker, Blackjack, Roulette, and slot machines. You can also bet on horse races and spin the "Lucky Wheel" which will seem to offer you the chance to win chips for the casino (a new form of currency specific to the location), cash, clothes, or even a sports car that will apparently rotate on a weekly basis. 
Read More: 20 Best Video Games to Play in 2020
The headline feature of this update seems to be a VIP membership to the casino which grants you access to a lavish penthouse complete with spas, bedrooms, bars, and even the ability to decorate the place a bit with some art. This penthouse seems to be the purchase that grants you access to the update's story missions, and if it's anything like other high-end properties in the game, you can expect it to set you back quite a bit. 
You can learn more about the casino and its many amenities via this new website. Otherwise, be ready to download the free update when it releases on July 23. 
Matthew Byrd is a staff writer for Den of Geek. He spends most of his days trying to pitch deep-dive analytical pieces about Killer Klowns From Outer Space to an increasingly perturbed series of editors. You can read more of his work here or find him on Twitter at @SilverTuna014. 
Read and download the Den of Geek SDCC 2019 Special Edition Magazine right here!