News
Green Lantern: Rise Of The Manhunters hands-on preview
Warner showed off its forthcoming Green Lantern tie-in at last week's MCM expo. Here's our hands-on preview of the PS3 version…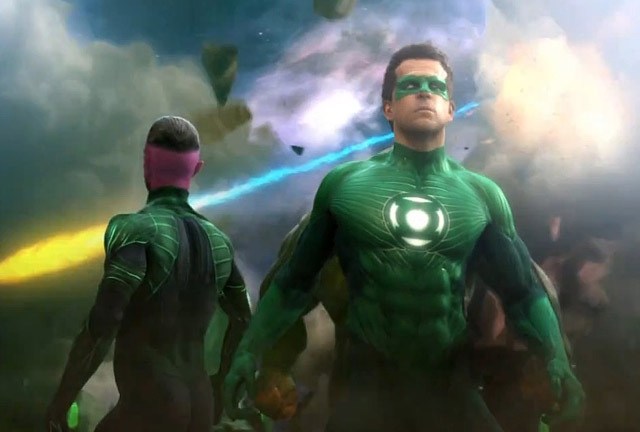 It's one of the golden rules of thumb that games tie-ins to movies are nigh unplayable. Like any rookie Green Lantern, though, Double Helix Games' Rise Of The Manhunters seems to be trying to avoid the pitfalls of its predecessors.
The game focuses wisely on three elements that could help it avoid becoming yet another forgettable game-of-the-film: a classic arcade buddy battling system, a lead character voiced by the Hollywood actor playing him, and a game world that draws directly from the rich comic book source goodness.
If you're not much of a comic fan, you're probably wondering what a Manhunter is. Introduced in Justice League Of America in the same year Star Wars hit big, the red-and-blue androids are the Green Lantern Corps' founders' failed prototype for a space police force. The Manhunters seek justice by any means necessary, and have regularly tried to wipe their replacements out of existence over thousands of years.
The core dynamic of Rise Of The Manhunters' gameplay is to keep hitting the robotic psychopaths as hard as you can until they stay down, with the eventual goal of universal peace and harmony after all that ruckus subsides.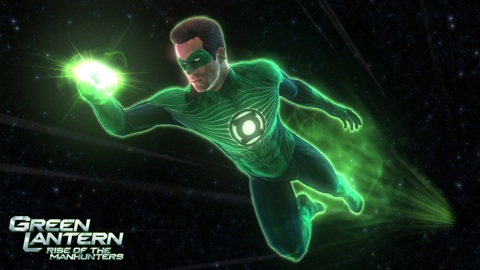 Jumping straight into the Manhunters' invasion of the Green Lantern Corps' homeworld, players begin as the movie's main character, Hal Jordan. There's also the option for a second player to jump in and out of the game to lend a hand as the sagely Sinestro. The gameplay follows the example of Star Wars: The Force Unleashed in its linear progression, depth of interactive storytelling and spectacular abilities.
Warner's demo threw players into the chaos, as Manhunter ships land on the Lanterns' space HQ, Oa. It's a suitably theatrical beginning for a game and, for what is effectively a tutorial, doesn't skimp on action.
Going up against an army of fascist robots without packing some serious firepower, or at least a very robust can-opener, is obviously not for the faint-hearted. The main weapon of a Green Lantern is simply their power ring, which can provide all of the above and more. This environmentally friendly jewellery can manifest a construct of anything conceivable if the wielder's will is strong enough.
In Rise Of The Manhunters, Jordan and the other Lanterns show off a whole arsenal of shiny energy attacks, from giant swords to huge fists. While you rampage your way across the surface of Oa, it's easy to smirk, as you use a shoulder button to shift the main attack button's effect into a pair of cartoon fists and bring them down to crush a robot or shoot drones out of the air.
Throughout the first mission, Quick Time Events prompt demonstrations of new special moves, and areas of the scene marked with an X button sign allow players to fly to the next area almost like a side-scrolling beat 'em up. Action is very fast-paced, but confusion is avoided by mapping newly unlocked, upgradeable abilities to trigger buttons in a way that echoes Zelda gameplay. It's a neat way of assuring you don't forget how to fire a ray beam and fits well with the power ring's jack-of-all-trades handiness. Pummelling and juggling enemies with style quickly becomes second nature.
The MCM demo showed just enough variety, choice and control over the impressive green willpower energy constructs to pique interest. The inclusion of the two-player mode also adds an extra flair and competitiveness to the rumble that works well with the established relationship between the characters of Jordan and Sinestro.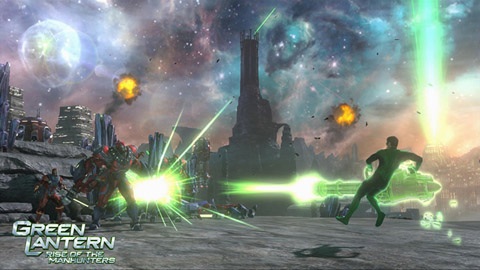 A steady stream of passers-by were enthusiastic in grabbing the controls. Not on display, though, was the game's 3D mode, due to be implemented for both PS3 and Xbox 360. This didn't detract very much from Rise Of The Manhunter's fluid, realistic and colourful graphics. Environments and the characters' superpowers seemed plausibly alien.
Judging by the promotional material released so far for both the Green Lantern movie and Rise Of The Manhunters, Warner Bros chose well when they picked Ryan Reynolds to play Earth's most famous member of the Green Lantern Corps, Hal Jordan.
The renowned goofball is familiar with smart-mouth genre material from playing vampire hunter Hannibal King in Blade: Trinity, and merc-with-a-mouth Deadpool in Wolverine: Origins, but taking on the interstellar role in one of DC Comics' core superhero franchises seems to be Reynolds' most heroic feat to date.
Just like Tobey Maguire's return as Peter Parker for the Spider-Man game series, Reynolds' presence and likeness marks Rise Of The Manhunters out as an important part of Warner's campaign to popularise its heroes with the success Marvel has already enjoyed.As every Lantern knows, it's a small universe, and all the better for it. Rise Of The Manhunters' single-player story was scripted by another name from the Blade canon, creator Marv Wolfman.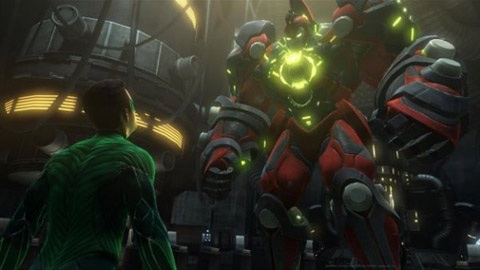 Wolfman is responsible for some of the comic book medium's best work, in particular DC's seminal Crisis On Infinite Earths crossover mini-series. He's also written for popular animated series including Transformers and its computer-generated follow up, Beast Wars. The quality of Wolfman's writing is noticeable from the introductory mission of the game and hints that more than the usual amount of thought and creativity has been invested in this tie-in.
The demo shown off at MCM was cinematic, easy to pick up and surprisingly entertaining. With any luck and just a bit of willpower, Green Lantern: Rise Of The Manhunters will follow through on its early promise.
Green Lantern: Rise Of The Manhunters charges onto Xbox 360, PS3, PSP and Nintendo Wii, DS and 3DS on 7th June, and can be pre-ordered from the Den Of Geek Store.