News
Grand Theft Auto V Soundtrack Leaks
GTA V features a star-studded soundtrack, including Kendrick Lamar, Rick Ross, Rihanna...and Eddie Murphy?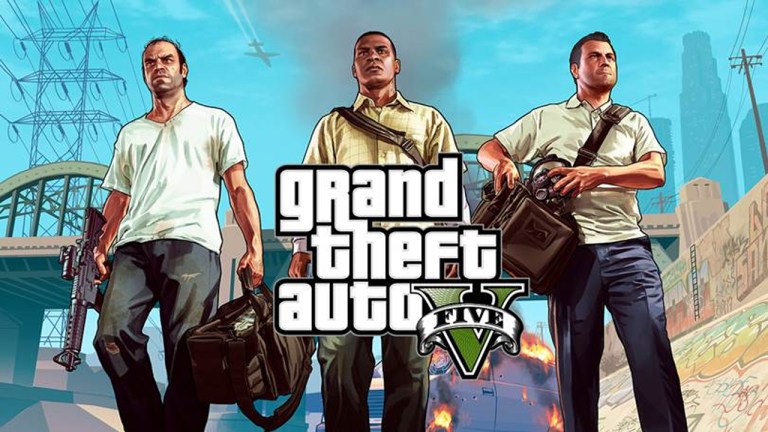 The Grand Theft Auto V tracklist has leaked via GTAforums. Nevermind being the best Grand Theft Auto soundtrack of all time–this might be the best soundtrack in a video game ever.  Snoop Dogg? Check.  Kendrick Lamar? Check. Eddie Murphy's classic "Party All The Time"? Check.
Take a look at the tracks that have leaked so far.  Remember to take this all with a grain of salt, as it isn't official until Rockstar says so (be on the look out for an official track list Monday).
West Coast Classics (classic hip hop)
Host: DJ Pooh
Tracklist:
*2pac – Ambitionz Az A Ridah

*N.W.A. – Appetite For Destruction

*N.W.A. – Gangsta Gangsta

*c walk – Kurupt

*DJ Quik – Dollars and Sense

*Snoop Dogg – Gin N Juice

*King T – Played Like A Piano'

*Geto Boys – Mind Playin' Tricks

*Tha Dogg Pound Ft. Mack 10 – Nothin' But The Cavi Hit

*Too $hort – So You Want To Be A Gangster

*Snoop Dogg Dr. Dre – Still D.R.E

*Snoop Dogg Dr. Dre – The Next Episode

*Mc Enit – straight up menace

*The Dogg Pound – What Would You Do

*Kausion – What You Wanna Do (Ft. Ice Cube)

*Ice Cube – You Know How We Do It
Soulwax FM
Host: Soulwax
*Mim Suleiman – Mingi

*FKCLUB – The Strange Art (In Flagranti Remix)

*Matias Aguayo – El Sucu Tucu

*Joe Goddard feat. Valentina – Gabriel (Soulwax Remix)

*Daniel Maloso – Body Music

*Green Velvet & Harvard Bass – Lazer Beams

*Zombie Nation – Tryouts

*Goose – Synrise (Soulwax Remix)

*Tiga – Plush (Jacques Lu Cont Remix)

*The Hacker – Shockwave (Gesaffelstein Remix)

*Pulp – After You (Soulwax Remix)
Non Stop Pop FM (pop/dance)
*Robyn – Every Heartbeat

*Rihanna – Only Girl (In the World)

*Modjo – Lady

*Britney Spears – Gimme more

*Kelly Rowland – Work

*Petshop Boys – West End Girls

*All Saints – Pure Shores

*Mis-Teeq – Scandalous

*Moloko – Time Is Now

*Amerie – One Thing

*Fergie – Glamorous

*Hall And Oates – Adult Education

*Corona – Rhythm Of The Night

*Stardust – Music Sounds Better With You

*Jane Child – Don't Wanna Fall In Love

*Wham! – Everything She Wants
Rebel Radio (Country)
*Ozark Mountain Daredevils – If You Wanna Get To Heaven

*Hank Snow – It Don't Hurt Anymore

*Johnny Paycheck – It won't be long (and I'll be hating you)

*Johnny Cash – General Lee

*Willie Nelson – Whiskey River

*Jerry Reed – You Took All The Ramblin' Out Of Me
Vinewood Boulevard Radio (alternative rock)
Hosts: Nate and Steve
*Sam Flax – Fire Doesn't Burn Itself

*Metz – Wet Blanket

*Ceremony – Histerya

*Bass Drum of Death – Crawling After You

*Shark? – California Grrrls
Electronic/Chillwave/Ambient radio station:
*Cashmere Cat – Mirror Maru

*The Hics – Cold Air

*Inc – The Place
Everything else:
*Foreigner – Dirty White Boy

*The Cult – Rain

*Steve Miller Band – Rock 'N Me

*Elton John – Saturday Night's Alright for Fighting

*Greg Kihn Band – The Breakup Song (They Don't Write 'Em)

*Julian Lennon – Too Late for Goodbyes

*The Doobie Brothers – What a Fool Believes

*Kano – Can't Hold Back (Your Loving)

*One Way – Cutie Pie

*Rick James – Give It to Me Baby

*Evelyn "Champagne" King – I'm in Love

*Eddie Murphy – Party All the Time

*Stevie Wonder – Skeletons

*Kleer – Tonight

*D Train – You're the One for Me

*Bob Seger and The Silver Bullet Band – Hollywood Nights

*Youth Brigade – Blown Away

*The Germs – Lexicon Devil

*The Weirdos – Life of Crime

*Black Flag – My War

*Descendents – Pervert

*Circle Jerks – Rock House

*T.S.O.L. – Abolish Government/Silent Majority

*Suicidal Tendencies – Subliminal

*Fear – The Mouth Don't Stop (The Trouble with Women IS)

*Kendrick Lamar – A.D.H.D

*YG – I'm A Real 1

*Kelly Rowland – Work (Freemasons Remix)

*The Game – Ali Bomaye (Explicit) ft. 2 Chainz, Rick Ross

*Hackman – Forgotten Notes

*Bernard Wright – Haboglabotribin'

*Taana Gardner – Heartbeat (Club Version)

*Zapp – Hearbreaker. Pt. 1, Pt. 2

*B.T. Express – Do It

*Aaron Neville – Hercules

*Rihanna – Only Girl (In the World)

*All Saints – Pure Shores

*Muse – Madness

*Ab-Soul – Illuminate (Thank you xl2onald)

*All Saints – Pure Shores

*Mis-Teeq – Scandalous

*Inner Circle – Bad Boys (hahaha, perfect song.)

*Marlena Shaw – California Soul

*Outkast – Elevators (Me & You)

*Regulate – Warren G and Nate Dogg

*Smokey Robinson- Cruisin

*B.T. Express – Do It 'Til You're Satisfied
Like us on Facebook and follow us on Twitter for all news updates related to the world of geek. And Google+, if that's your thing!