News
God of War Release Date, Trailer, News, and More
What we know about God of War, including latest news, release date, trailers, and more!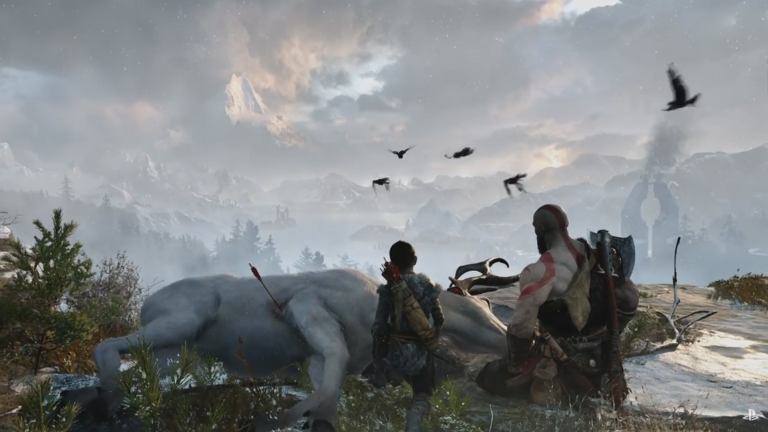 God of War is back! The fourth installment in the hugely popular action-adventure game was revealed at Sony's E3 2016 press conference to confirm the rumors that had been going around for at least a week. This time, the game will take its settings and monsters from Norse mythology. Kratos also has a son, which is a pretty shocking development considering his actions in the first trilogy. 
E3 2016's God of War reveal suggested that the game was going to be a fairly radical departure from what came before. The game's revamped combat system seems to have taken some cues from Dark Souls. There's also an altered presentation style which almost feels like a mythological take on the Naughty Dog style of storytelling.
Speaking of stories, God of War's continues to intrigue. It appears that Kratos' son is somehow cursed and it's up to dear old dad to guide him through a very beautiful and dangerous land in order to find a cure. Whatever the specifics, this latest game certainly has a much more intimate feel to it, even though the scope and brutality of the God of War series is clearly still intact.
Here's everything we know about this highly anticipated sequel:
God of War News
This 15-minute God of War gameplay preview gives us our best look at how the new game changes the franchise formula. 
According to this video from PS Underground, the new God of War will be a much more deliberate title. That means that most combat in the come will see Kratos battle one enemy at a time, utilize weapons that have a lot more weight to them, and even employ defensive maneuvers to save his skin. 
While the name of "Dark Souls" is invoked during this preview, the comparison isn't entirely accurate. God of War seems to make great use of Kratos' son as a true asset in combat. He'll be able to fire arrows from afar, join in on some combo attacks, and help Kratos take down especially large foes. 
There's a trace of old-school God of War in this combat footage, but this new title does indeed look like a fresh start for the series. 
God of War Release Date
God of War is set to release on April 20, 2018. The game is coming exclusively to the PlayStation 4.
God of War Trailers
A new trailer has arrived for God of War! Check it out below:
Here's the second trailer, which was released during E3 2017:
Here's your first look at the new adventure:
This exciting new preview showcases a world that initially seems quite far from the God of War we've known. Kratos (who is sporting an awesome beard, it must be said) is trekking through an incredible looking wooded area with a kid on a seemingly simple hunt. Things quickly revert back to the God of War we know and love, however, once Kratos is jumped by a few demons that learn that Kratos' axe is good for chopping more than firewood. 
The entire situation really escalates once Kratos encounters a hulking beast that gives us a better look at the game's new perspective and combat style. Indeed, the game's camera perspective and speed appear to have taken a cue from titles like Dark Souls. The trailer and title suggest that this is a new beginning for Kratos and the series. 
Regardless, this looks like an exciting entrant into the renowned franchise that we are eager to learn more about. 
God of War Details
In an interview with Eurogamer, God of War director Corey Balrog revealed that there are no camera cuts in God of War.
"The aspiration when I got back was to tell a much more personal story," said Balrog. "God of War is traditionally known for these cinematic, pull back cameras, which I think are fantastic. But trying to get in there and really get to know the character a little more, I realised it'd be interesting if we got closer.|
Balrog admitted that making a "one-shot" game presented some fairly unique challenges, but he ultimately feels that the innovations of this system are worth the headaches that go along with making it happen.
"For me it really comes down to when you experience something amazing, you go see the Grand Canyon or something like that, you don't have a crane camera behind you giving you a vista shot to make it look amazing," said Balrog. "That's a postcard. What you have is you, standing on the edge, looking around and just being in awe of what you're seeing. In games, I think we can do that."
Balrog also noted that many of the changes seen in God of War thus far can be attributed to the fact that many of the people working on the game have grown and they simply don't want to re-explore the same concepts. That said, he claims that there are core God of War aspects in the new title, but players will simply view them "through a different lens."
In an interview with the website LevelUp (which was translated by the GameTransfers crew), Barlog shared some of the first details of the upcoming title, including the announcement that God of War will be a single-player only game. 
Though Barlog credits God of War: Ascension's multiplayer mode for its innovative take on the concept, he also noted that the mode lacked enough depth to become a staple piece for the franchise moving forward. 
Speaking of the franchise moving forward, it does appear that this new God of War will, in fact, represent the start of a new series of games for Kratos. Though Barlog was short on details concerning these future titles (if there are actually any details to share at all at this point) he did note that we can expect to see more Kratos in the future. 
On the subject of Kratos' son (which has become a big talking point ever since the game's trailer reveal), Barlog eased the concerns of some fans by insisting that the character will not have to be looked after in combat such as you may see in a traditional escort mission. While we're still unsure if the son will have a direct combat function or will instead be something of a secondary element such as the role Elizabeth played in Bioshock: Infinite, Barlog did note that the character is unaware of his father's previous exploits at the start of the game, which does help to clarify the timeline of this release in relation to the previous series.