News
Gears 5 Details Leak Ahead of E3 2019
A new document reveals some of the first substantial details about Gears 5 ahead of its E3 2019 showcase.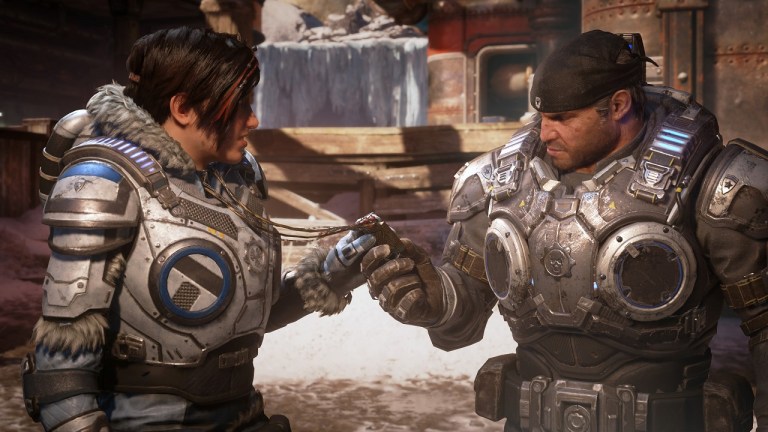 A new document has seemingly revealed quite a few details about Gears 5 ahead of its expected E3 2019 showcase. 
"The world is crumbling," reads a leaked document that is seemingly part of Gears 5's marketing materials. "Humanity's reliance on technology has become their downfall and enemies are uniting to wipe out all survivors. As Kait you must journey across the biggest, most beautiful Gears world to uncover the origins of the Locust, and fight with your squad to protect what's left."
The few story details we get in that preview are all about what we expected, but that mention of "the biggest, most beautiful Gears world" may be more than some marketing hype. Elsewhere in the document is a blurb about the player's ability to "Explore Sera" which includes the opportunities to "skim across glaciers, sail over deserts, and descend into sunken ruins to discover the largest and most diverse Gears world ever created." 
While we highly doubt that Gears 5 will be a full-on open-world game, it does sound like each level might offer the ability to break away from the series' traditional linear paths. Some are already speculating that Gears 5's levels might be similar to the levels in Uncharted 4, which would mean that players would have the ability to at least explore an area that's wider than a narrow path. 
This leak also confirms that Gears 5 will support split-screen and online co-op, Xbox and PC cross-play, competitive multiplayer, and "4K Ultra HD resolution with stunning HDR at a smooth 60 frames per second." That last bit most likely applies to those who play the game on the Xbox One X.
The Gears franchise could certainly benefit from some deviations from the normal. While Gears of War 4 was quite good, it didn't exactly attempt to offer anything that we hadn't seen in previous entries. If Gears 5 can retain what makes the series work while updating it slightly for the modern age, it could prove to be one of the Xbox One's best exclusives. 
Matthew Byrd is a staff writer for Den of Geek. He spends most of his days trying to pitch deep-dive analytical pieces about Killer Klowns From Outer Space to an increasingly perturbed series of editors. You can read more of his work here or find him on Twitter at @SilverTuna014.