News
Gears 5 Features Dave Bautista as Playable Character
Former WWE star Dave Bautista will finally (kind of) get to live his Gears of War dreams in Gears 5.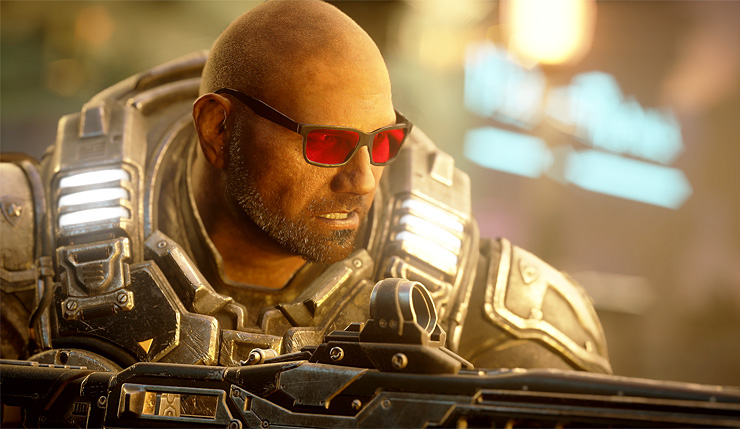 Actor and former WWE star Dave Bautista will appear in Gears 5 as a special playable character who is scheduled to be added to the game on September 15. 
Bautista confirmed his appearance in the game by sending out a tweet that included the words "It's about damn time." That's seemingly a reference to his vocal desire to star in a Gears of War movie. He's been campaigning to lead such an adaptation for years, but it doesn't seem like the opportunity has come up yet. 
Gears 5 developers The Coalition released a statement to Bleacher Report earlier in which they confirmed Bautista's appearance and shared a little more information regarding what, exactly, his role in the game will be. 
"Dave has long been passionate about joining the Gears franchise, and we're thrilled to be working in partnership with him to bring his signature WWE style to the game," says The Coalition. "The iconic attitude of WWE's Batista will be incorporated into 'Gears 5' as a multiplayer skin, allowing both Gears and wrestling fans alike to jump into the action as Batista across all multiplayer modes including Horde, Versus and Escape."
It certainly sounds like the Gears 5 version of Bautista will be based on his Batista WWE character. We're not entirely sure what that means, but it will be nice to be able to play as Dave in Gears' multiplayer modes even if we are also still waiting to see Batista cast as a leading character in a big-budget Gears movie. We're also a little bit sad that it doesn't sound like Dave will have access to some kind of powerbomb move that destroys all enemies on the map.
Regardless, Gears 5 is certainly going all out on all-star DLC characters. Gears 5 will also feature content pulled from the Terminator and Halo universes. 
Matthew Byrd is a staff writer for Den of Geek. He spends most of his days trying to pitch deep-dive analytical pieces about Killer Klowns From Outer Space to an increasingly perturbed series of editors. You can read more of his work here or find him on Twitter at @SilverTuna014.