News
Game of Thrones Creator George R.R. Martin Rumored to be Working on New Game From Dark Souls Developers
George R.R. Martin may be collaborating with the Dark Souls team on a medieval open-world game.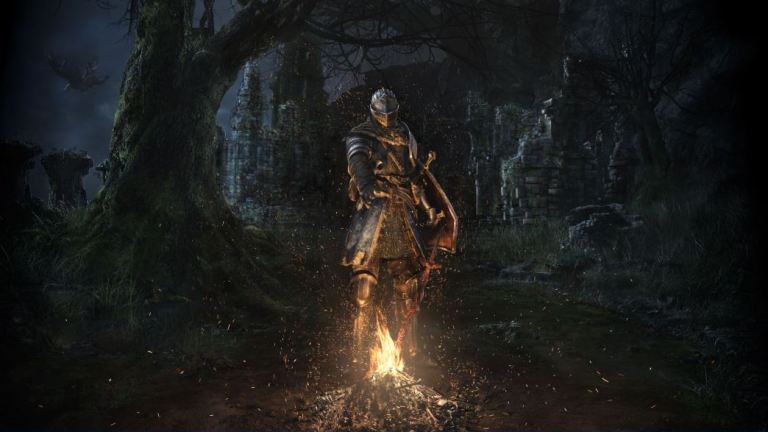 Game of Thrones creator George R.R. Martin has been working with a Japanese studio on an unannounced video game that many believe is being developed by From Software and Dark Souls creator, Hidetaka Miyazaki. 
Reports of this collaboration have been floating around for quite some time, but it wasn't until recently that Martin himself confirmed via a blog post that he has "consulted on a video game out of Japan." In and of itself, the most interesting thing about that bit of information is that most games based on A Song of Ice and Fire and Game of Thrones have been developed in the West. 
However, this post follows a series of rumors that suggest the game Martin has been consulting on actually has nothing to do with Game of Thrones. In fact, various reports indicate that Martin has been working on a new game from From Software and Hidetaka Miyazaki. That theory is supported by From Software's own statements in which the studio has confirmed they are working on at least two new projects. 
While the details concerning the nature of this game collaboration are thinner, a source who claims to be close to its development has told Gematsu that the project is being internally referred to as "GR" and has been in development for the last 3 years. That same report suggests that it will be a medieval-themed open-world game featuring horse riding and several kingdoms that can teach the player various skills. 
Interestingly, that same source also indicates that this project will be formally revealed during Microsoft's E3 2019 press conference. It seems unlikely that this project will be an Xbox exclusive, but we wouldn't rule that possibility out considering how aggressively Microsoft has been pursuing exclusives as of late. 
While Martin fans may not be thrilled to learn that he has been devoting so much attention to outside projects as the Song of Ice and Fire books remain notably unfinished, this project does sound exciting and may be just the thing to help people get over the post-Game of Thrones blues. 
Matthew Byrd is a staff writer for Den of Geek. He spends most of his days trying to pitch deep-dive analytical pieces about Killer Klowns From Outer Space to an increasingly perturbed series of editors. You can read more of his work here or find him on Twitter at @SilverTuna014.