News
From comic books to videogames
As DC Universe Online readies for launch, James looks at some of the best and worst videogames based on comic books…
Over the last few years, comic book videogames have become big business again. If you don't believe me, just look at some of 2011's most hotly anticipated games. Marvel Vs. Capcom 3. DC Universe Online. Batman: Arkham City. All based on comics.
But what makes a good comic book adaptation? In this article, we take a look at some of the best and worst games based on comics, and ask what it was that made them work (or not), analysing what challenges must be overcome when adapting superheroes to a playable medium, and – hopefully – pointing you in the direction of a few games worth playing too.
In a nice act of symmetry, the first ever comic to videogame adaptation actually starred the first proper superhero. Superman was released for the Atari 2600 in 1978, the same year as the Richard Donner film. You could be forgiven for being underwhelmed by its looks, but be fair – the Atari didn't have many pixels to work with, and it still looks like Superman (if you squint a lot).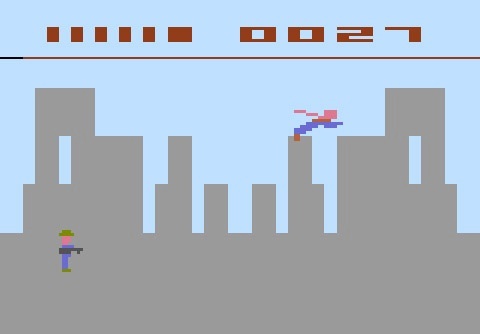 Okay, you're probably not convinced, but looks aside, the game is actually fondly remembered. Why? Because despite its limited resources, it actually managed to capture what being Superman was like. For a start, it replicated the character's freedom, which saw him able to move through the city in four directions and enter a limited number of buildings (including the Daily Planet) in what was effectively an open world, although on heavily restricted by the technology of the time.
The game's rather cute mechanics required the player to move their Clark Kent sprite into a phonebox in order to transform into Superman, and the gameplay itself was actually quite varied, requiring you to first reassemble a bridge Lex Luthor had stolen, then track down Luthor and his goons, and finally transform back into Clark Kent and return to work.
Perhaps the reason Superman for the Atari is so well-liked is because it succeeded where so many superhero games have failed since – they remembered to adapt the source material, rather than plug the characters into a generic setting. You didn't just play as Superman – you assumed his role, protecting the city and apprehending the crooks, actually delivering them to jail rather than just punching them until they disappeared.
You might have only had access to two of Superman's powers (X-Ray vision and flight) but with only 4K of memory at its disposal, Superman was actually a worthy inheritor of the name.
Of course, it's fairly damning that the challenge of bringing Superman to gaming never quite reached such charming heights again. Although the 1988 Superman arcade game looked great (and included an awesome surprise in its two-player mode, where player two appeared as Superman Red) it was an utterly unoriginal side-scrolling beat 'em up which took little advantage of either the protagonist or its setting.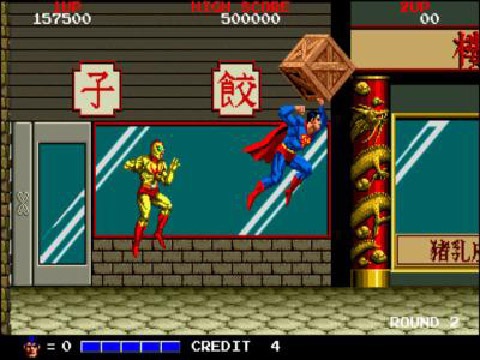 The 1992 16-bit Superman game for the SNES/Mega Drive didn't even let you fly (what?!) while the 1999 Superman 64 game is frequently cited as one of the worst adaptations of all time.
In the meantime, technology and gamers' expectations were evolving. Spider-Man, who up until the 00s barely had a game worth playing to his name (anyone who fondly remembers Maximum Carnage is advised to go back and actually play it, then admit rose-tinted hindsight), was finally granted something great with 2005's Ultimate Spider-Man, a game that combined the open-world mechanics of the recent Spider-Man 2 movie adaptation game with a story written by celebrated comic book writer, Brian Bendis.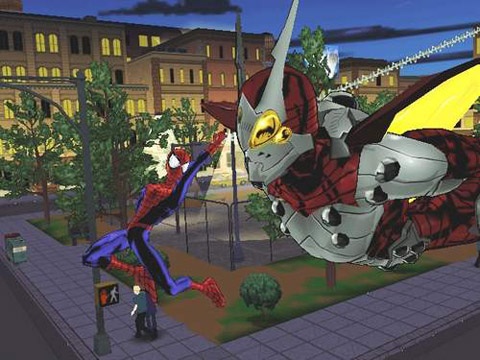 The results were spectacular fun, allowing gamers to roam around the Marvel New York, saving citizens, fighting super-villains, or just having fun climbing up buildings. Despite the character appearing in numerous games since, none have managed to adapt Spider-Man and his world so faithfully or enjoyably.
The success of this open-world approach (also seen in Hulk: Ultimate Destruction) did not go unnoticed, and in 2006's Superman Returns, developers attempted to break the Superman videogame curse and return to the idea of players assuming Superman's role. But even though the ideas look good on paper: a free-roaming city, randomised side-missions and – for the first time – an attempt to model Superman's invincibility (the "health" bar referred to the damage inflicted on Metropolis, rather than Superman), it wasn't enough to overcome the curse. Poor graphics, repetitive gameplay and an underwhelming story meant that it received poor reviews. The character has stayed away from consoles since.
The idea of assuming the role of the characters is, it seems, one that crops up in all of the truly great comic book videogames. 1988's Batman: The Caped Crusader offered players two stories to play through, presenting each screen as a comic book 'panel' and emphasising exploration and detection over combat. Compared to the subsequent efforts throughout the 90s and 00s – a rash of movie and cartoon licensed versions which quickly nose-dived in quality and stayed there – they were inspired.
Funnily, though, it wasn't until the licenses stopped piggy-backing on other media and returned to the source that we got one of the best licensed games ever – 2009's Batman: Arkham Asylum. Given free rein to adapt and translate Batman's entire canon into a game, it gave you options for playing the game using your fighting, stealth and detective skills, allowed access to all manner of gadgets and traversal options, from a cape glider to a grappling hook, and then on top of all that, it gave you a story that made you care – not just about Batman, but about his villains. If every other comic adaptation could remain as faithful to its source material, fans would never have reason to complain again.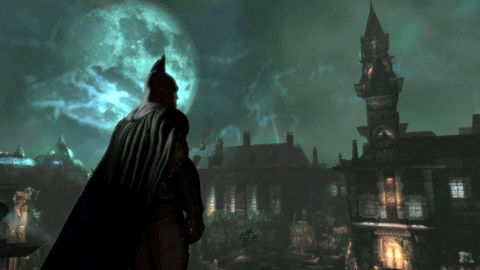 That's not the only formula for a good comic book game, of course. When Capcom took the X-Men and placed them in their own fighting game, Children Of The Atom, the success led to a slew of successors – X-Men Vs. Street Fighter, Marvel Super Heroes, and the ultimate expression, Marvel Vs. Capcom 2, one of the best examples of a 2D fighting game ever, the pinnacle of its genre.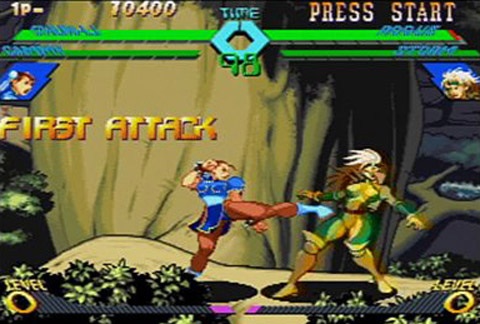 So, given that superheroes don't (just) spend their time beating the hell out of one another, what was it that made these games succeed where superhero beat 'em ups failed?
In short, it was two things: Variety and personality. By giving players access to a wide range of favourites, then giving each one their own unique voices, animations and moves, Capcom could please almost everyone, almost all of the time. The same formula was exploited by the X-Men Legends/Marvel: Ultimate Alliance games, which were positively overflowing with fan-pleasing characters, stories and references, and universally praised as a result, despite simplistic, formulaic gameplay.
Occasionally, you can float a decent comic book game on its writing alone. Although Sam & Max Hit The Road, the 1993 Lucasarts adventure game, was ludicrously difficult and functionally identical to a huge number of existing Lucasarts adventures, the anarchic humour of the protagonists meant players remained glued to every line, no matter how unimportant to the plot it seemed.
Similarly, the 2005 Punisher game adapted ludicrously brutal set pieces from Garth Ennis' Welcome Back Frank to inject the character with some originality in a medium as dominated by grim, gun-toting marine types as comics are by superheroes. The games themselves weren't that different from their contemporaries – except that they offered memorable, character-based moments unique to their source material.
In any case, it's clear that as long as there are comic books, there are going to be adaptations, and as long as there are adaptations, the majority are going to be rushed, uninspired and generic affairs.
The best comic book games are those that focus on unique mechanics and solid, character-centric storytelling – it's almost as if a good comic book game needs to be, above all else, a good game. Will 2011's offering deliver such a beast? Time will tell…
Follow Den Of Geek on Twitter right here.