News
Fortnite Season 9: Patch Notes, Skins, and Details
Fortnite Season 9 has arrived. Here are the full patch notes and everything you need to know.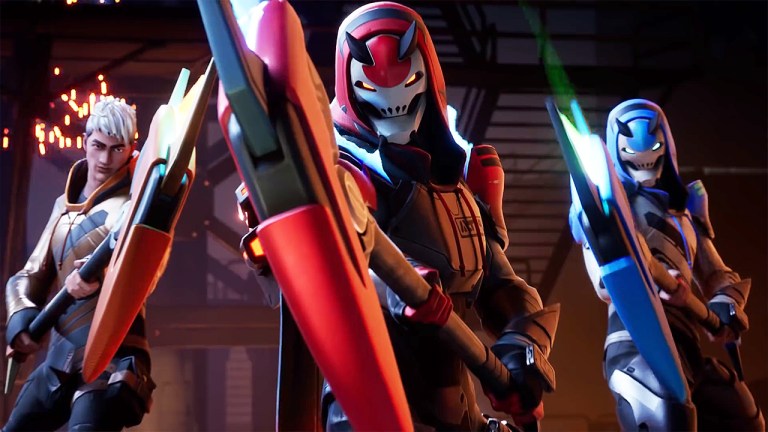 Fortnite Season 9 has officially begun, and Epic has released the full patch notes for the latest season of content. 
First off, the recently destroyed Tilted Towers have been replaced by futuristic buildings that form a new area known as Neo Tilted. It's joined by another futuristic location known as Mega Mall. The exact nature of these strange new locations hasn't been entirely revealed yet, but they likely have something to do with the new slipstreams that have popped up throughout the map. 
Slipstreams are essentially a new way for players to cover more ground in a surprisingly quick way. They're essentially wind tunnels that players can enter and exit at rapid speeds. It's actually possible for players to maneuver in these slipstreams in a way that will provide them additional momentum. That momentum is accounted for when exiting the slipstream and can determine just how far you're launched and where you land. Vehicles and projectiles can also enter the slipstream.
These slipstreams are joined by the addition of Air Vents which allow players to launch themselves across the map while suffering no damage penalty. These new methods of transportation will help players discover the new Fortbyte computer chips located throughout the map. There's going to be a 100 of these chips to eventually located, but they will slowly be added throughout the course of Season 9. Unlocking them is apparently the key to solving the mystery at the heart of this new season. As such, they won't be available after the season has ended. 
Epic has also decided to "vault" the following items for the start of Season 9: Clingers, Buried Treasure, Pump Shotgun, Poison Dart Trap, Scoped Revolver, Suppressed Assault Rifle, Vaulted Thermal Assault Rifle, and Vaulted Balloons. To help make up for the loss of the pump shotgun, a new combat shotgun has been added to the game. This update also includes the usual array of improvements, tweaks, and mode alterations. Of course, there's also a ton of new skins to unlock. You can read the full patch notes here.
Fortnite's new season is always a cause for celebration amongst the game's massive fanbase, but this season feels a bit strange considering the recent reports which reveal the extreme crunch culture that fuels Fortnite's seemingly endless series of updates. The extent of those allegations has resulted in companies like Respawn stepping forward to state that the comparatively slower nature of Apex Legends updates is partially rooted in their desire to not overwork their employees. 
Matthew Byrd is a staff writer for Den of Geek. He spends most of his days trying to pitch deep-dive analytical pieces about Killer Klowns From Outer Space to an increasingly perturbed series of editors. You can read more of his work here or find him on Twitter at @SilverTuna014.