News
Fortnite Season 11: New Map Revealed in Major Chapter 2 Update
Fortnite season 11, and Chapter 2, has arrived. Here's everything you need to know: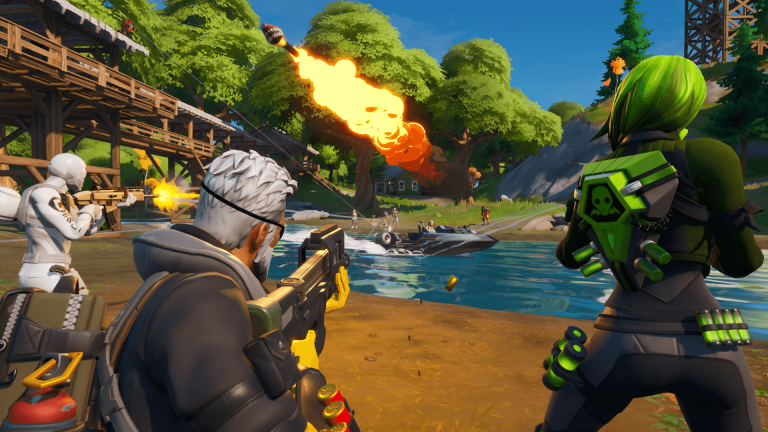 After, Epic Games live-streamed a special Season 11 event that saw Fortnite's map blown up by rockets, a meteor, and warped into a black hole, Fortnite has returned in the form of Fortnite: Chapter 2.
There's quite a lot that's new in this version of the game. However, the biggest change is undoubtedly the game's "new" map. We put new in quotes there as the map actually does share some similarities with the previous one. There are even some landmarks and locations that have survived the transition left in the wake of that meteor that hit the original map. 
Joining those familiar locations is a plethora of map design additions that include entirely new zones and an emphasis on water. That last bit leads into the addition of some fresh mechanics that include driveable speed boats and the ability to swim. Naturally, though, you will eventually hit an invisible wall if you decide to swim too far out into the ocean. You can also fish and eat your catch for a quick health boost. 
Additional new features include being able to physically pick up downed teammates, a gun that allows you to heal your teammates from a distance, pogo sticks, and the ability to hide in things like haystacks. It seems that quite a few weapons have been removed from the game as well, but players are still discovering the specifics of what is, and isn't, available. There's also a reference to being able to upgrade weapons using a weapons bench. 
Interestingly, it seems that Fortnite now has a new battle pass and progression system that Epic says is about "more fun, less grind." The details are still being figured out, but it seems that progress is more closely tied to your XP in the game and that you earn multiplier metals for performing certain in-game actions such as discovering new locations.  
While Apex Legends recently unveiled a new map and PUBG has introduced new maps for years, Fortnite had previously relied on making modifications to its existing map ever since the launch of the game's battle royale mode. It makes a lot of sense that Epic would consider a more substantial change to the game at this time, though, given the amount of blowback the Fortnite team has been receiving over some of its creative decisions which have added controversial thematic alterations to the original Fortnite zones.
In any case, this appears to be the start of an exciting and substantial new era for Fortnite. We'll see where Epic takes the popular battle royale shooter from here. 
Matthew Byrd is a staff writer for Den of Geek. He spends most of his days trying to pitch deep-dive analytical pieces about Killer Klowns From Outer Space to an increasingly perturbed series of editors. You can read more of his work here or find him on Twitter at @SilverTuna014.
John Saavedra is an associate editor at Den of Geek. Read more of his work here. Follow him on Twitter @johnsjr9 and make sure to check him out on Twitch.