News
Fortnite Streamer Ninja Leaves Twitch for Microsoft Mixer
Twitch's most popular Fortnite streamer has shockingly decided to stream exclusively on Mixer.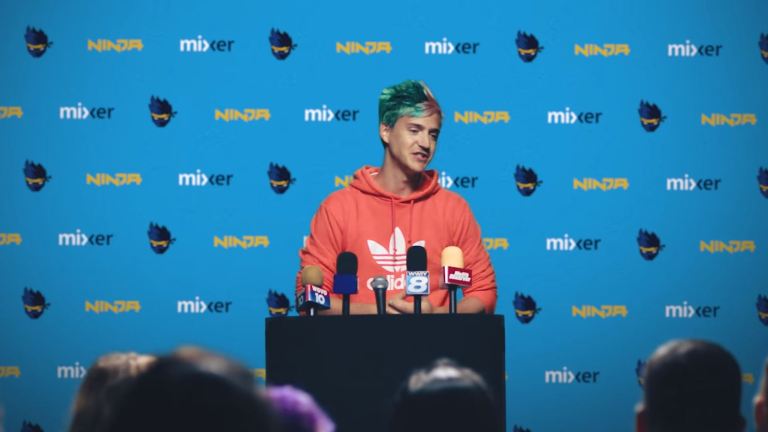 Incredibly popular Fortnite streamer Tyler 'Ninja' Blevins is leaving Twitch in order to stream exclusively on Microsoft's Mixer platform. 
"It's the same me, just a different platform," says Ninja via a recently released video embedded in a Twitter post with the words "the next chapter." Unfortunately, Ninja doesn't share any of the finer details of this transaction. That means that we're not sure just how massive the massive payday that Ninja almost assuredly received to jump platforms is. 
A Microsoft press release confirms that Ninja's first Mixer exclusive stream will take place during "Lollapalooza 2019, from August 2 through August 4, at Ninja's Dojo inside the Red Bull Outpost." The wording of the press release also suggests that Ninja will effectively become the mascot for Mixer as he will "attend broader gaming events and activations throughout the year in support of Mixer." As for Ninja, he cites Halo as the game that got him into gaming when explaining why this move is so exciting to him.
"I never would have thought that I could build a career by doing what I love, and I am extremely grateful for the incredible experiences that I have had. As I look at the next step in my career, achieving bigger goals in the gaming industry with Mixer will allow me to have the perfect balance of opportunities and success," says Ninja. "My roots as a gamer started with Halo, so working with Microsoft and coming over to Mixer felt like a natural next step. Capturing all the great moments in gaming and sharing in the wins (and losses) with a positive, community-focused environment that we can all be proud of – that's why I'm here,"
While we doubt that this one jump will sink Twitch, it's a huge blow to that platform. Ninja has over 14 million Twitch followers and unofficial numbers suggest that he has about 15,000 paid subscribers (though that number has been falling in recent months). Ninja's also become the face for the very idea of video game streaming.  
This is also quite the risk for Ninja given the general attitude some people have regarding digital platforms withholding content in order to attract more users (such as we've seen with the controversy surrounding Epic store exclusives). The good news for Ninja and Microsoft is that Fortnite remains about as popular as ever despite some pesky competition in the form of Apex Legends and the emerging auto battler genre. 
Matthew Byrd is a staff writer for Den of Geek. He spends most of his days trying to pitch deep-dive analytical pieces about Killer Klowns From Outer Space to an increasingly perturbed series of editors. You can read more of his work here or find him on Twitter at @SilverTuna014. 
Read and download the Den of Geek SDCC 2019 Special Edition Magazine right here!