News
Fortnite Creative Mode: Trailer and Release Date
Fortnite will get a proper creative mode in December.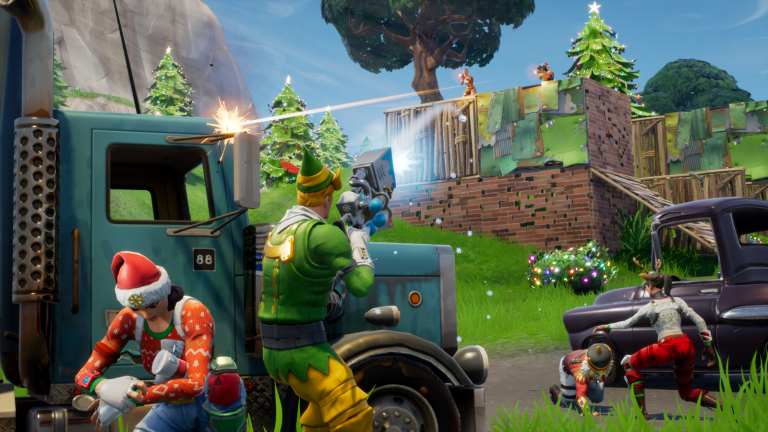 Fortnite will soon receive a proper creative mode. 
As an expansion of the previously released Playground mode, this new creative mode will aim to turn Fortnite into more of a proper sandbox crafting experience. What that means is that players will be able to fly around the map and place a series of objects wherever they like. All of this action will take place on an island that is separate from the main battle royale battlefield and will be accessible via a portal system that lets you visit your creations as well as the creations of others. 
Epic hasn't revealed the full toolset for this mode, but their announcement video suggests that it will be extensive. The preview states that you'll not only be able to create custom game modes via the new creative option but that you'll even be able to use it to create mini-movies based on your gameplay. The latter feature was demonstrated with footage that showcased two cars full of gangsters having a shootout through city streets. 
A leaked video (which has since been removed) featured a YouTuber testing out the new creative mode and revealing just some of the many possibilities it offers. That video is already giving Fortnite fans hope that this new mode might just lead to an almost infinite amount of gameplay modes fostered by the community. While Creative is obviously in its very early stages, you should expect it to be the source of quite a few new gameplay options not long after its initial release. 
So far as that goes, anyone who has purchased the Fortnite season 7 Battle Pass will be able to access a beta version of the creative mode starting on December 6th. The mode will then open up to everyone on December 13th. No matter when you access the mode, Epic warns players that creative is going to be in somewhat rough shape during this initial release period. However, they do plan on updating and supporting the mode in the coming months and (presumably) beyond. 
We should know more about Fortnite's creative mode and upcoming seventh season after the 2018 Game Awards. 
Matthew Byrd is a staff writer for Den of Geek. He spends most of his days trying to pitch deep-dive analytical pieces about Killer Klowns From Outer Space to an increasingly perturbed series of editors. You can read more of his work here or find him on Twitter at @SilverTuna014.