News
Fortnite Birthday Event Features Themed Unlockables
Celebrate Fortnite's first birthday by...err...playing Fortnite.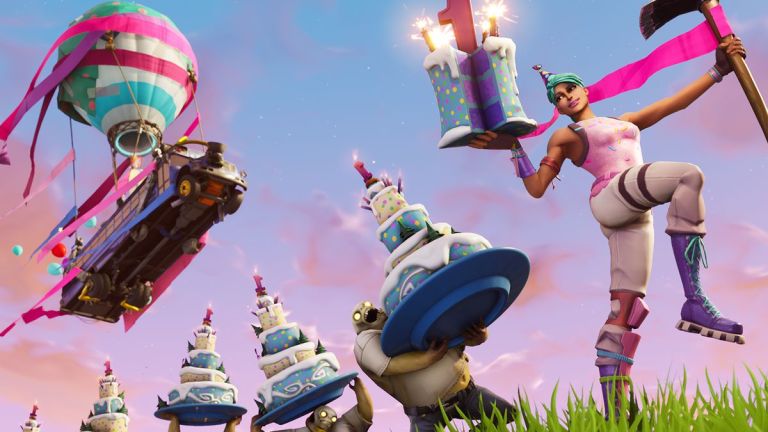 Epic is throwing a little in-game party to celebrate Fortnite's first birthday. 
July 24th marks the start of a new Fortnite event that gives players the chance to unlock special birthday-themed items by completing certain challenges. For instance, dealing 1000 damage will unlock a "Birthday!" emote while playing 14 matches nets you 5,000 XP. It also seems that you'll be able to dance in front of 10 birthday cakes spread throughout the map in order to unlock a birthday-themed spray. We're not sure how dancing constitutes a challenge in this instance, but there you have it. 
Manage to complete all three challenges, and you'll unlock a "Birthday Cake Back Bling." Try to contain your excitement.
On top of that, the game's Save the World mode is getting a special birthday questline that unlocks the Birthday Brigade Ramirez Hero when you complete it. You'll also find birthday llamas spread throughout the map that contain weapons and heroes from previous events. If it feels like the Save the World mode is getting a little more love than the Battle Royale mode, that's because this birthday is a celebration of when the game's Save the World mode launched. The Battle Royale portion came later. 
Still, this is kind of a weak anniversary/birthday event for what it is – by most metrics – the worlds' most popular game. Some sprays and emotes are nice and all, but compared to the anniversary events that Overwatch has hosted, this does have a "least we could do" air about it. 
Then again, it's not like Epic hasn't been generous with free Fortnite content until this point. The game's latest season just started and changed the dynamic of Fortnite's map fairly significantly. It also introduced quite a bit of new cosmetic content that makes up for the lack of notable additions in this birthday event.