News
Former LucasArts Developer Wants to Remaster Classic Adventure Games
Tim Schafer wants to dive deeper into the back catalog of LucasArts games, but he needs Disney to give him the greenlight.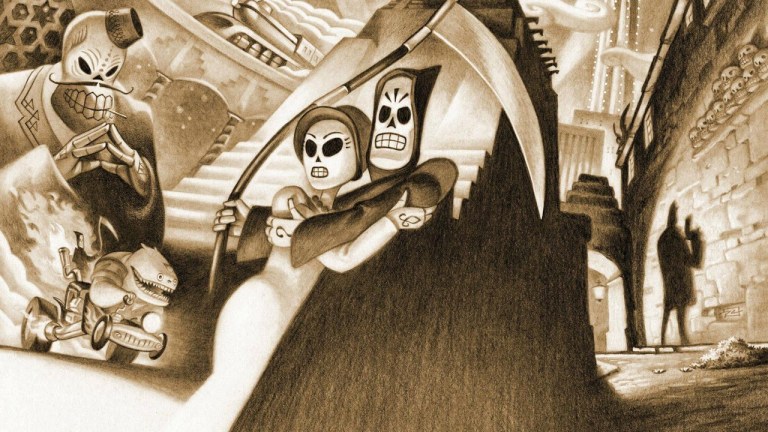 Tim Schafer, the legendary creator of adventure games like Full Throttle, Grim Fandango, and Day of the Tentacle, wants to bring more of those classic point-and-click adventure games back to the modern age. 
"In some ways, it's up to Disney," said Schafer to PC Gamer. "If they want to do that, obviously, and if the original creators want to be involved. That's what makes those remasters special, that the original creators came back and were able to say what to improve on, what to leave alone."
Schafer explained that, while he likes to devote most of his focus towards new games rather than the titles of the past, he does acknowledge that there is "some value in going back and looking at [classic games]." 
For those keeping count at home, Schafer has already remastered some of his most beloved games. Day of the Tentacle, Full Throttle, and Grim Fandango have all received modern-day upgrades. That really just leaves the Monkey Island series in terms of the "classic" Tim Schafer games awaiting a proper remaster. There was a Monkey Island Special Edition released in 2009, but that was developed by LucasArts. It's also possible that he is referring to the opportunity to help remaster some classic LucasArts adventures that he wasn't as directly involved with, such as Indiana Jones and the Fate of Atlantis. 
Schafer admits that he "lucked out" in terms of Disney giving him the greenlight to revisit those classic games under the Double Fine banner. While Schafer doesn't specifically mention Monkey Island as the series he would like to revisit, he did speak of the value of handling these remasters himself rather than letting another studio work on them. 
"I got to make sure they were done right, and still be associated with the new versions of the game and not let someone else do that," said Schafer. "That was really important to me. So I'm glad we did that. I would like to own them someday, mostly just to make sure I can preserve them."
Interestingly, Schafer noted that Full Throttle and Grim Fandango both sold very well. He also pointed out in the interview that the remaster of Grim Fandango outperformed the original release of the game. Perhaps Disney will listen and give Schafer the green light on more of these games. We'll keep you updated!