News
Fork Parker's Crunch Out Is a Super Nintendo Game About the Horrors of Game Development
Devolver Digital's Fork Parker's Crunch Out will see you play as the maniacal head of a game development studio.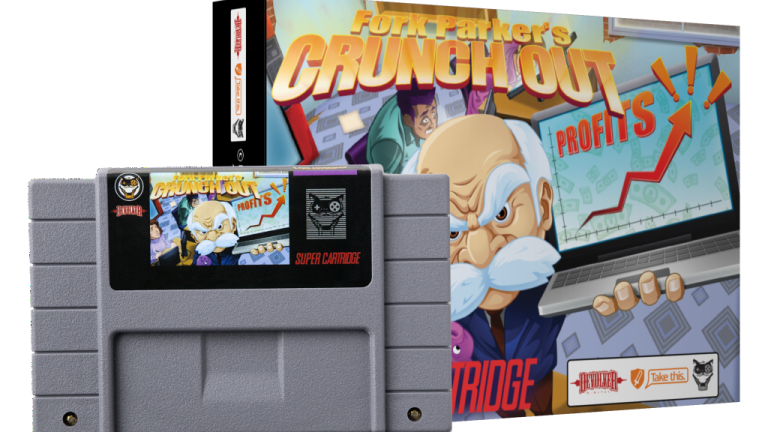 Devolver Digital and Megacat Studios are working on a new Super Nintendo game all about the horrors of game development crunch. 
Yes, you read that right. Titled Fork Parker's Crunch Out, this game is actually being made specifically for SNES. It's even being shipped as a SNES cartridge. Why would a publisher – even Developer Digital – release something so niche? Well, the profits for this game will actually go to the "Take This" organization; a nonprofit group that tries to inform members of the game industry about mental health issues that can arise from crunch and other industry standards. 
The game itself is billed as a "classic arcade style" title that sees players control a parody of Devolver Digital's CFO (a fictional man named Fork Parker). As Parker, you'll need to ensure that the developers working for you are maximizing the company's profits. To do so, you'll have to use motivational tactics both common (crunch time) and thankfully uncommon (shock treatment).
While the game is played for laughs, the message is very serious. Kate Edwards, a board member for Take This, states that "crunch is an unsustainable practice that exploits game creators' passion at the expense of their physical and mental wellness." She goes on to praise Devolver Digital and for their "creative approach" to exposing the horrors of crunch culture.
If you want to purchase a copy of Fork Parker's Crunch Out, you'll have to move fast. It seems that only 1,000 copies of the game are being made, but it's not entirely clear whether that refers to just the standard edition of the game (which sells for $49.99), the deluxe version (which goes for $149.99 and includes a pretty swanky LED monitor), or both. 
The game itself looks pretty interesting, which kind of makes it a shame that it's not being released via a traditional format on top of this limited cartridge release. Still, the game's profits are going to a great cause and the idea to port this to SNES cartridges of all things is pretty clever.