News
Five Nights at Freddy's Creator Pulls Movie Adaptation Screenplay
Five Nights at Freddy's creator Scott Cawthorn is rewriting the screenplay for the planned movie adaptation.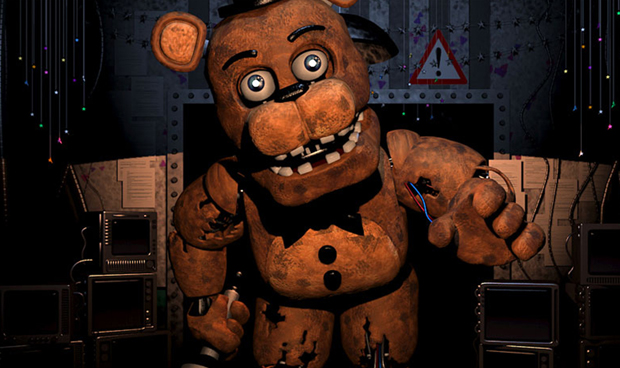 Five Nights at Freddy's creator Scott Cawthon has apparently pulled his original screenplay for the film adaptation of his horror game series that was previously approved by director Christopher Columbus and Blumhouse Studios.
"It's been a real challenge for everyone, including myself, to come up with a good screenplay for this," said Cawthon via a Steam blog post. "But I'm determined to find the right story. I'm sticking to what I've always said, either the right movie gets made or no movie gets made. I hate delaying a project that's already seen so many delays, but I have to go with my instincts on what I think will be exciting and interesting, and what I think the fanbase will really want to see. If that means that I have to start over ten more times, then that's what I'm going to do. The good thing is that each attempt gets better and better, in my opinion. So, despite the delays, it's going in the right direction."
Cawthon also revealed that he intends for the script to take place around the events of the first three FNAF games. Furthermore, it seems that Cawthorn is working on a new FNAF book, a VR game, and AR game, and even a AAA version of the game series. 
Still, it's the film adaptation that remains the real story here. Based on what Cawthon is saying, it doesn't sound like this is a case of traditional production problems. Instead, it seems that Cawthon simply felt he could do better. Until we hear otherwise, we're going to assume that Columbus and Blumhouse are on-board with this. However, the adaptation is going to have to start shooting at some point. 
Created by Scott Cawthon, the game series puts players in the shoes of an unlucky security guard who gets stuck in the quasi-Chuck E. Cheese establishment, "Freddy Fazbear's Pizza," which is actually haunted by a creepy band of murderous robotic animals, led by the horrifying titular mascot manifestation himself. The franchise already has six games released and is the subject of two novel adaptations, as well as a plethora of merchandise. Plus, its popularity has been magnified by the adopted pastime in which fans share spine-tingling experiences with the game on YouTube. Hopefully, those fans won't have to worry too much about the film straying from the spirit of the game, since Cawthon himself will be onboard the Five Nights at Freddy's movie as a producer, joined by Blumhouse head Jason Blum.
The project's momentum yields potential to reach new levels of the pop culture stratosphere for Five Nights at Freddy's, and potentially Blumhouse, since the studio's horror-centric success has yet to reach beyond the established demographic who enjoys the genre, and Freddy's fans tend to skew younger; something that might make one speculate that the project could become a PG-13 affair. As creator Cawthon told THR, during the project's initial manifestation three years back, "The story really lends itself to being a movie and it taps into a largely unexplored niche of horror that a lot of people will be able to relate to."
Matthew Byrd is a staff writer for Den of Geek. He spends most of his days trying to pitch deep-dive analytical pieces about Killer Klowns From Outer Space to an increasingly perturbed series of editors. You can read more of his work here or find him on Twitter at @SilverTuna014.