News
First details for FIFA 14
EA has fired the first volley of information about FIFA 14, and here it is...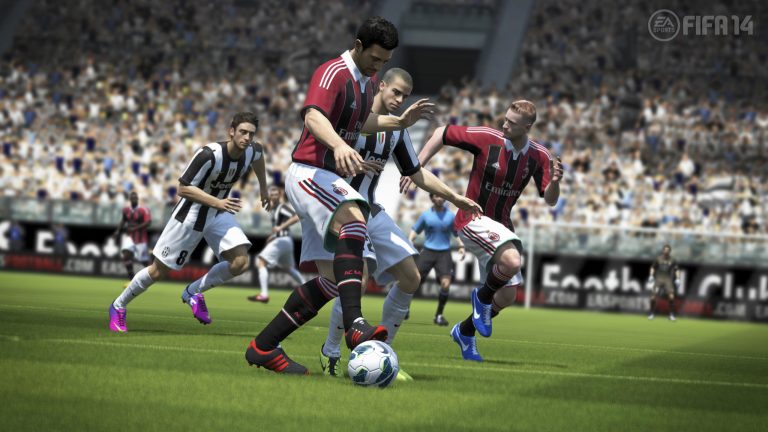 FIFA 14 has been officially announced today (as if there was any chance it wasn't coming), and along with a few tasty shots of the action are a few details of the changes implemented in the new annual edition.
The information released by EA regarding the new changes to FIFA's gameplay includes some new shooting, control and ball physics implementations amongst other things.
When it comes to controlling the ball, players will make use of the new 'Sprint Dribble Turns' to turn in any direction whilst sprinting, and this will be paired with new 'Variable Dribble Touches', meaning not all players will have the same level of skill when running with the ball. This should show difference between team abilities even more, emphasising the need for a good, solid squad.
However, the most interesting new features focus on taking shots at goal, and the new 'Pure Shot' system now gives players the intelligence to change up their speed and find the best possible position and angle for a strike, including rushed and balanced shots. There's also going to be some revamped ball physics, which will affect the trajectory of the ball after its hit. This will make for much more realistic shots from all ranges, and allow more control, granting the ability to properly blast shots from point blank range, hit low- rising shots and more.
Alongside ball physics and control, the team-mate AI is being given another round of lessons, and defensive players will be much better at recognising and reacting to runs, and offensive players will have more skill when it comes to fooling and shaking off defenders in order to make room for the Pure Shot moment. You'll also be able to protect the ball with improved controls. Now moved to the left analogue stick, you can shield the ball whether you're standing perfectly still or blasting full pelt down the wing.
Off the pitch EA is revamping the career mode interface in order to make it more accessible, and will introduce the new 'Global Scouting Network'. This will allow fans to build their own global talent scouting network throughout the year, giving you more information than ever when it comes to that all-important transfer window.
FIFA's social networking elements will also be improved via the EA Sports Football Club, and changes will include a new socially-focused game mode and changes to the FIFA Ultimate Team. Skill games will get improvements, along with some new additions to the mix.
The development team are implementing many of the changes in order to make matches in FIFA play even more like the real thing.
David Rutter, FIFA's Executive Producer, stated in the press release, "FIFA 14 will play the way great football matches are contested with build up through midfield, tension throughout the match as chances are created, and incredible finishing.
"Opportunities in FIFA 14 will be rewarding and great goals will look stunning."