News
FIFA 18 Switch Version Will Be Drastically Downgraded
Nintendo FIFA fans will have to do without the game's Frostbite engine, story mode, and more.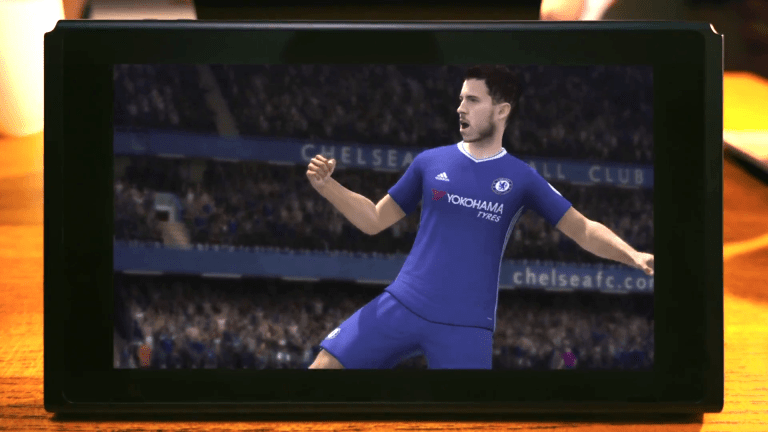 While some suspected that Nintendo Switch version of multi-platform games may feature some modifications, the extent of the changes found in the Switch version of FIFA 18 borders on content butchery. 
The latest trailer for FIFA 18 (which can be found in our FIFA 18 full report) includes a line of text that states: "Frostbite game engine technology and The Journey: Hunter Returns mode are available on Xbox One, PlayStation 4 and PC platform versions only. Not all features available on all platforms."
While the news that the Switch version of FIFA 18 will not run on EA's high-end Frostbite Engine isn't too shocking, the implication that the Switch version of the game will not feature FIFA's legendary story mode is a bit unexpected. That mode was one of the things that helped propel FIFA 17 over many of its predecessors and competing titles. Its absence would be a huge blow. 
At this time, it's not exactly clear just how different the Switch version of FIFA 18 will ultimately be. However, Peter Moore had previously stated that EA was designing a special version of the game for the Switch. At the time, it was believed that he was talking about a version of the game designed to run on Switch hardware, but now it appears he may have been referencing an almost entirely separate take on the FIFA series designed exclusively for Switch. 
That news is supported by EA's E3 press release which references both FIFA 18 and EA SPORTS FIFA on Nintendo Switch. 
Given that Nintendo has previously hinted at FIFA running on Switch by playing up the Switch's portable functionality and how it will allow you to participate in FIFA multiplayer matches anywhere, we're guessing the Switch version of the game will emphasize competitive play over single-player adventures. It's also likely that the more demanding cinematic presentation of the game's story mode is the culprit that killed any chances of that feature appearing on Nintendo's latest console. 
We will bring you more information about the Switch version of FIFA 18 as it becomes available.