News
Far Cry 5 Release Date, Trailer, Story, News, and More
Everything you need to know about Far Cry 5, including latest news, release date, trailers, DLC details, and much more!
The latest entry into the Far Cry franchise figures to include all of the mini-missions, base destruction, and open-world exploration that we've come to expect from the game's most recent titles, but this Far Cry breaks the mold just a bit by moving players from a harsh jungle setting to the heart of rural America. 
In Far Cry 5, you will be tasked with liberating a small town from the oppression of a cult that has coerced the populace through fear and intimidation. Doing so will require you to seek the help of a small band of local rebels who share your goal. 
Here's the latest from Far Cry 5:
Far Cry 5 News
The next Far Cry game will include an extensive arcade mode that lets players create custom maps and game types. 
According to the video above, Far Cry 5: Arcade is described as such because it will ultimately house a variety of in-game experiences. The Arcade mode allows players to utilize over 5,000 in-game objects that include assets from the Far Cry series as well as other Ubisoft properties like Assassin's Creed. The amount of options it offers seems to be quite daunting. The brief preview above shows that players can create just about everything that they can imagine within the context of a Far Cry game. 
Ubisoft intends to expand the already impressive initial offering of assets included in the game's Arcade mode with every DLC release. They will also continue to upload official custom map designs and plan to host events designed to show off various creations. 
Far Cry 5 Release Date
Far Cry 5 has been delayed to March 27, 2018 from an original release date of Feb. 27. The game is coming for PlayStation 4, Xbox One, and PC. PlayStation 4 users will receive a free in-game skin pack upon purchase. 
Far Cry 5 Trailer
Take a look this fantastic new story trailer for Far Cry 5's campaign:
The developers of Far Cry 5 took a little time to break down some of the things you can look forward to in Far Cry 5. While the bulk of the footage focuses on previously revealed features – co-op gameplay, freedom of exploration, recruiting characters – this video does include some never before seen looks at the game's wildlife. 
This Far Cry 5 trailer focuses on the game's co-op options by detailing the many ways you and your friends will be able to destroy the game's small-town cultists. Hint: many of them involve rather large guns.
E3 2017 didn't bring us quite as much information about Far Cry 5 as we thought it might, but these two new trailers for the game do expand upon the game's unique look at the modern world. We also get a brief look at a cinematic mock-up of the title's gameplay which seems to suggest that the latest Far Cry may place a greater emphasis on squad-based objective completion and combat. 
Along with Far Cry's first official trailer, Ubisoft is releasing a few character trailers that highlight some of the prominent members of the game's resistance movement. Get to know bar owner Mary May, Pastor Jerome Jeffries, and pilot Nick Rye courtesy of these new previews:
The official trailer for Far Cry 5 seemingly confirms many things we already new about the game. It takes place somewhere in the Montana countryside, it sees you combat a radical religious leader and his congregation, and it will feature plenty of open-world action. It also serves to get us very, very excited about the next installment in the Far Cry series.
Far Cry 5 Story
Far Cry 5 will cast players into the role of a junior deputy in Hope County, Montana. Somewhere along the way, this young deputy will cross paths with the local doomsday religious cult known as Project at Eden's Gate. It seems that it will be up to you to bring together local members of the growing resistance movement and fight back with the help of various vehicles and weapons. 
You'll also be able to hire special activist groups in order to help you along the way. It's not entirely clear how these groups will affect the overall gameplay beyond assisting you in combat, but we do know that Far Cry 5 will feature a co-op option and will revive Far Cry 3's map editor program. 
Far Cry 5 DLC
Ubisoft has revealed the batch of post-release content that you expect from Far Cry 5's season pass. It's…interesting to say the least. 
The first piece of DLC for a game that is set in rural Montana will take you to the jungles of Vietnam and pit you against the Viet Cong. The second DLC release will be a grindhouse-style zombie adventure. The last will see you fight alien spiders on Mars. 
Think we're making this up? Just take a look at this photo that is way too professional to have possibly come from us: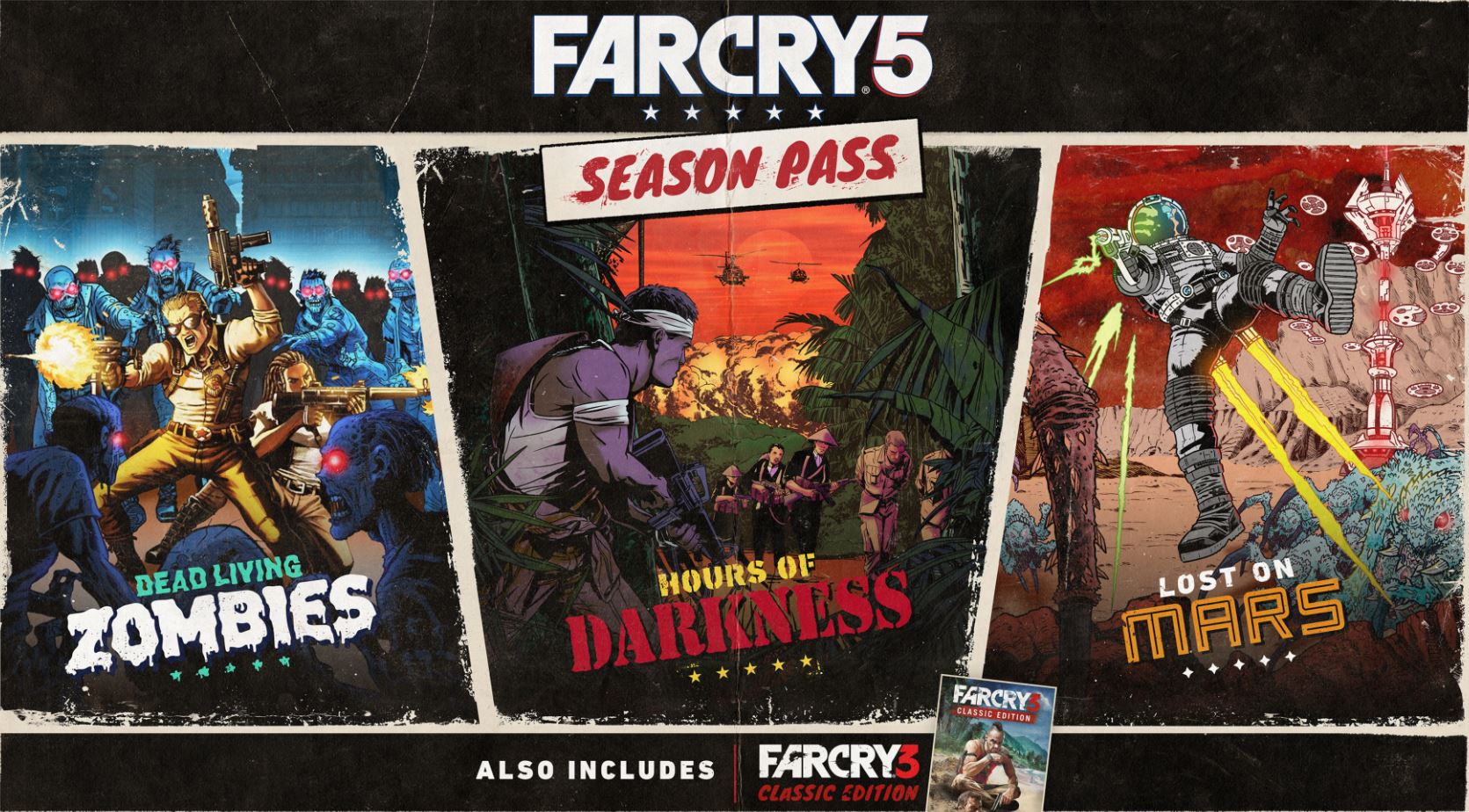 As noted in that awesome picture above, the Classic Edition of Far Cry 5 will contain all Season Pass content and a downloadable copy of Far Cry 3.