News
Far Cry 5 Wants You to Find Donald Trump's "Pee Tape"
Far Cry 5 features a mission where you team up with the Secret Service to find the president's "pee tape." Very patriotic...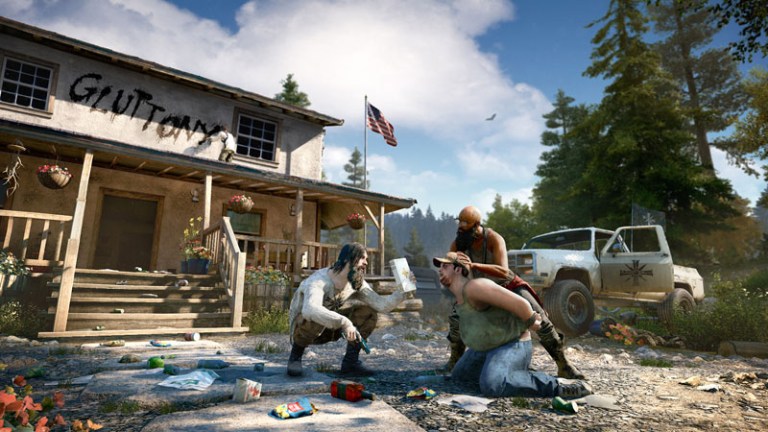 Far Cry 5 contains a side mission that makes quite a few references to a certain infamous rumored tape featuring Donald Trump and some…well, let's just start with this footage from the game. 
Deep in Far Cry 5's fictional version of modern Montana is a special agent named Willis Huntley, who assigns you a mission called "Patriot Acts." Mr. Huntley explains to you – with a degree of disturbing enthusiasm – that the "big man" himself is looking for a tape containing sensitive footage that the Eden's Gate cult has managed to secure and hide. Huntley formally requests that you recover this tape for the good of your country. 
What's on this tape? Huntley isn't saying, but he does make contact with a Russian agent and uses the code phrase "the bed has been wet." If you're hoping that helping Huntley will offer a little more information about what is going on – or even a reward – you're out of luck. He leaves you high and dry as soon as you secure the tape for him. 
As for what this is all about…oh geez, do we really have to be the ones to explain this?
See, not too long ago, Buzzfeed – yes, the "10 Things You Didn't Know You and Your Dog Have in Common" website – published a 35-page document known as the Christopher Steele dossier (Christopher Steele was a former British intelligence offer hired by a firm to investigate the relationship between Russia and Trump). This dossier explored the potential relationship between Trump and Russia while suggesting that the Russians might have compromising information about the current President of the United States. 
There was one part of this document that captured the internet's attention. It seems that an unnamed source informed Steele that Russian agents might possess a tape that features Trump in a hotel room with some prostitutes. It alleges that Trump requested that the prostitutes perform a "golden showers" show on the same bed that Barack and Michelle Obama slept in when they visited the country. 
At this point, we should note that the information in that dossier hasn't been 100% confirmed and that many news outlets chose to not run the portions of the document that were unverified (including the bit about the "golden shower"). Still, it seems the Far Cry team couldn't help but reference this rumored tape when designing a game about a cult that has overtaken a large swath of Republican country.