News
Fan Trailer Puts Super Mario Odyssey in Grand Theft Auto
You've come to the wrong neighborhood carrying that many coins...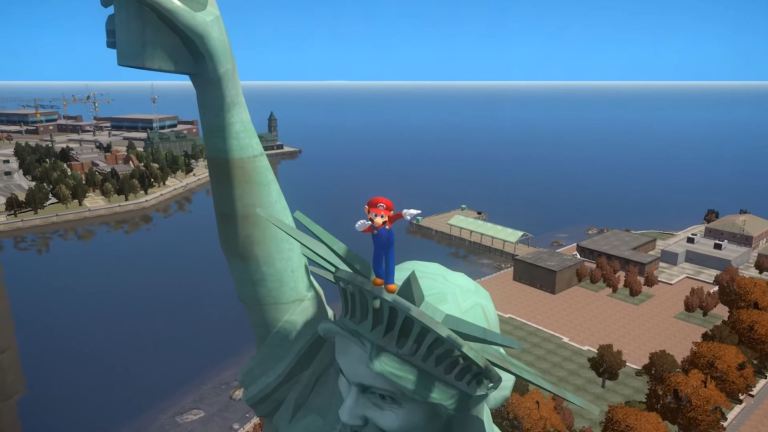 From the moment the reveal trailer for Super Mario Odyssey showed gaming's greatest hero jumping around a fictionalized version of New York City called New Donk City, fans everywhere began coining such clever phrases as "Grand Theft Super Mario" and "Something, something, Grand Theft Auto."
Yes, Mario's unexpected trip to a realistic landscape had gamers imagining a crossover between Mario and the notorious GTA franchise. Well…most gamers, that is. YouTuber CrowbCat actually decided to go a step further and just recreate the Super Mario Odyssey trailer using Grand Theft Auto IV.
Proving once again that you really can do anything with Grand Theft Auto mods, Super real Mario Odyssey conveys what might happen if Mario stepped into Liberty City. From, quite accurately, suggesting that Mario would be run over in an instant if he tried to cross a real city street the way he does in the Super Mario Odyssey trailer to showing that no man dressed like that would ever be able to scale a city building without causing the police to get involved, Super real Mario Odyssey perfectly portrays the snide comments that we've been making about Mario's recent urban outings. 
To be fair, it's unlikely that Mario will visit strip clubs or steal helicopters in the real Super Mario Odyssey game, but this trailer does make it clear that such activities wouldn't be completely devoid of entertainment value.
Along with the iCEnhancer mod designed to improve the visual quality of GTA IV's PC version, CrowbCat also used this Super Mario Skins mod to put the plumber in the game as well as this Real Parkour Animations mod to recreate his famous moves. You may want to do the same if you enjoy what you've seen in his creation, as this video will almost certainly be removed by Nintendo.