News
Fan Hack Puts Yoshi in Sonic the Hedgehog 2
Gaming's 17th most requested dream team is now a reality.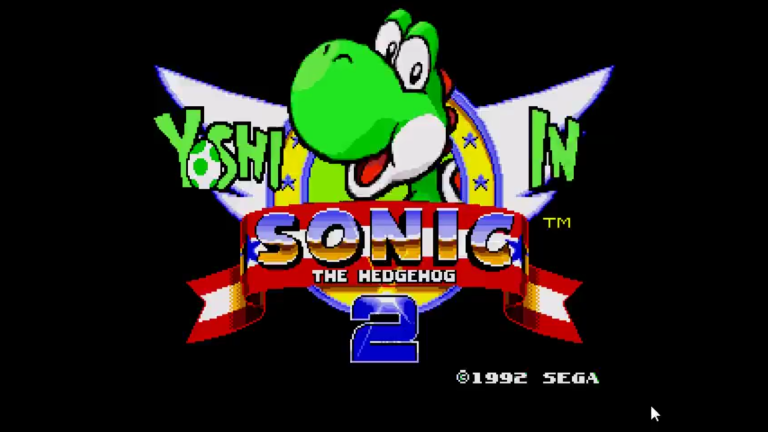 It's been years since Sega abandoned the console game and became a third-party developer, but there is still something strange about seeing Sega games on Nintendo consoles. Even though we've had the opportunity to pit Sonic against Mario in Super Smash Bros., there's just something about those two former rivals co-existing in such a friendly manner that will never feel quite right. 
In an alternate reality where Sega is still a Nintendo rival, the thought of seeing Nintendo and Sega characters together in a game would still be a pipe dream. In that reality, projects like this mod which inserts Yoshi into Sonic the Hedgehog 2 would be downright weird. 
Actually, there's still something strangely surreal about the whole thing even now. Made by a ROM hacker named Xenowhirl as part of a Sonic hacking contest held in 2010, this mod has existed for quite a few years but has only recently surfaced on YouTube. 
Right from the intro which features Yoshi carrying Sonic on his back as the two form the classic Sega logo, you realize that this mod is far more than just a simple cut and paste job. Xenowhirl went to great lengths to truly reimagine Sonic 2 featuring Yoshi, and it's difficult to not appreciate just how incredible the final product looks. Yoshi has been so seamlessly integrated into the game that you almost have a hard time believing this isn't some official collaboration. 
If we're going to nitpick a bit – because hey, this is the internet – we would say that the gameplay definitely leans more towards the Yoshi side of the equation. Actually, there are times when this project resembles a hacked version of Yoshi's Island featuring Sonic, which is impressive in its own right. Of course, there are still moments when Yoshi takes advantage of Sonic's speedy capabilities and the two properties feel unified. 
If you're interested in trying this mod for yourself, you can snag a copy via the free Dropbox download link here.