News
Fallout: New Vegas Developer Obsidian Doubts It'll Make Another Fallout Game
Despite making one of the greatest Fallout games ever, Obsidian says they're probably done with the franchise.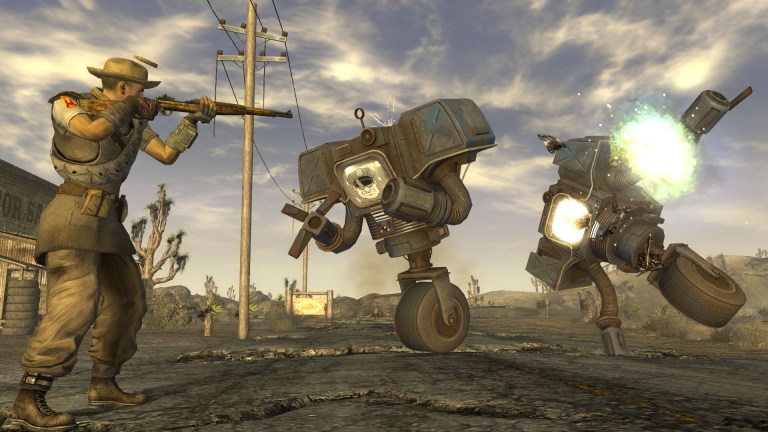 In case you are still holding on to any kind of hopes that Obsidian might develop another Fallout game in the future, we've got some really bad news for you. 
A fan sent a message to Obsidian's Twitter account asking whether or not there is any chance that they will work on another Fallout game. Obsidian responded with a picture of a magic 8-Ball displaying the message "Very Doubtful." While not the most direct approach to answering that question, their response seems to tell us everything that we need to know regarding the likelihood of such a project ever coming to fruition. 
This isn't the first time that Obsidian has responded to questions about whether or not they may make another Fallout game. The long and short of that story is that just about everyone at the studio would love to develop another game in the Fallout universe. Members of the studio said that it's a "really fun property to work on" and Obsidian's CEO has gone on record by stating that he'd "love to do another Fallout."
Sadly, Bethesda threw some cold water on Obsidian's hopes some time ago. In an interview earlier this year, Bethesda's Todd Howard stated that he'd "never say never" in regards to another studio working on a Fallout game, but that the current size of Bethesda's studio means that they prefer to keep things internal. He said that he thinks Obsidian did a fantastic job with the franchise but was certainly doing all he could to do everything but slam the door on the subject. 
Of course, there's a very good reason that fans keep dreaming this increasingly impossible dream. Many consider Obsidian's Fallout: New Vegas to be the greatest Fallout game ever made. Its rich story, fascinating setting, and compelling character creation options tapped into the heart of the Fallout franchise in a way that even Fallout 4 didn't. It was a brilliant RPG. 
Some say that the game would have been even more brilliant if Obsidian had gotten the chance to finish their vision for the title. An incredible amount of content was cut from the original build of the game (seemingly due to concerns regarding console processing power at the time) and New Vegas suffered from many of the same technical bugs that played the original release of Fallout 3. It wasn't the first time that Obsidian had to finish a sequel to a beloved game under sub-optimal conditions, but the taste we got of their interpretation of the Fallout universe left many wanting more. 
We also wonder if the recent reports that Microsoft has purchased Obsidian may play a part in Bethesda's unwillingness to let them develop another Fallout title. 
Matthew Byrd is a staff writer for Den of Geek. He spends most of his days trying to pitch deep-dive analytical pieces about Killer Klowns From Outer Space to an increasingly perturbed series of editors. You can read more of his work here or find him on Twitter at @SilverTuna014. 
Read and download the Den of Geek NYCC 2018 Special Edition Magazine right here!