News
Fallout 76: West Virginia Announces Tourism Partnership With Bethesda
West Virginia is embracing Bethesda's Fallout 76 in a big way.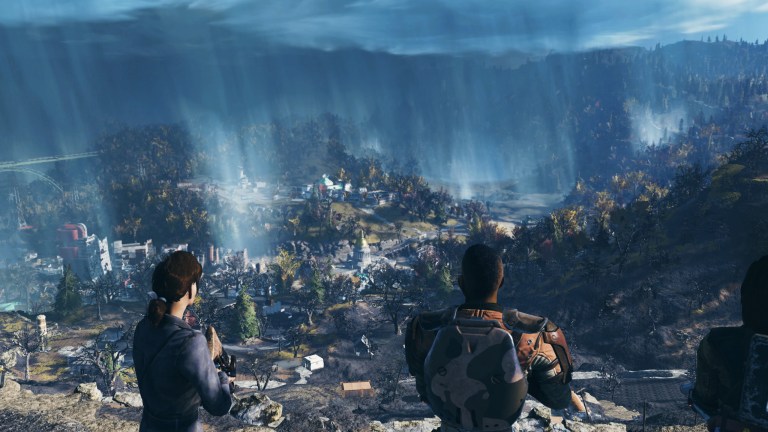 West Virginia's board of tourism has decided to embrace Fallout 76. 
"Governor Jim Justice and the West Virginia Tourism Office today announced a partnership with award-winning video game publisher Bethesda Softworks for promotion of its upcoming release of Fallout 76, an online open-world video game set in post-nuclear West Virginia," reads a post on the West Virginia's board of tourism website. "The video game, which was announced in June via a trailer set to a 1940s-inspired version of John Denver's famous "Country Roads," is the latest game in the iconic Fallout series and will be the largest and most ambitious yet."
Governor Jim Justice stated that he believes the "unique lens of this video game" can help to show the world "what a gem West Virginia is. We're a little surprised the governor of West Virginia is so eager to embrace Fallout 76's portrayal of West Virginia given that Fallout typically portrays an apocalyptic hellscape version of its various landscapes. However, it seems that the tourism board is actually quite impressed with the world that Bethesda has crafted.
"I think the world was caught by surprise when Bethesda released the trailer with an eerily beautiful post-apocalyptic West Virginia set to a slightly more futuristic version of our state's anthem," said Tourism Commissioner Chelsea Ruby. "Bethesda has been a terrific partner since day one. They've really embraced West Virginia and its beauty. We believe this unique partnership has tremendous potential to bring folks to visit the Mountain State."
So far as that goes, it seems like there will be some kind of special promotions associated with this partnership. We imagine that will include some tours and perhaps some in-game content, but the full details of the promotions associated with this partnership will be revealed in the coming weeks. In the meantime, the West Virginia tourism board has set-up a special Fallout 76 website. 
The basis of this promotion seems to be the belief that Fallout 76 will be popular enough to inspire people to visit the real West Virginia. So far as that goes, there are still some out there who have doubts concerning whether the game will be a worthy entry into the franchise. 
Read and download the Den of Geek NYCC 2018 Special Edition Magazine right here!
Matthew Byrd is a staff writer for Den of Geek. He spends most of his days trying to pitch deep-dive analytical pieces about Killer Klowns From Outer Space to an increasingly perturbed series of editors. You can read more of his work here or find him on Twitter at @SilverTuna014.