News
Fallout 76 2019 DLC Roadmap Revealed
Fallout 76 is about to get quite a bit of much-needed new content according to this 2019 DLC roadmap.
Bethesda has revealed Fallout 76's content roadmap, and it offers a surprisingly detailed look at what to expect from the studio's most controversial release in years. It all starts with a new, substantial content update called Wild Appalachia that will add quite a bit of new things to do to the game.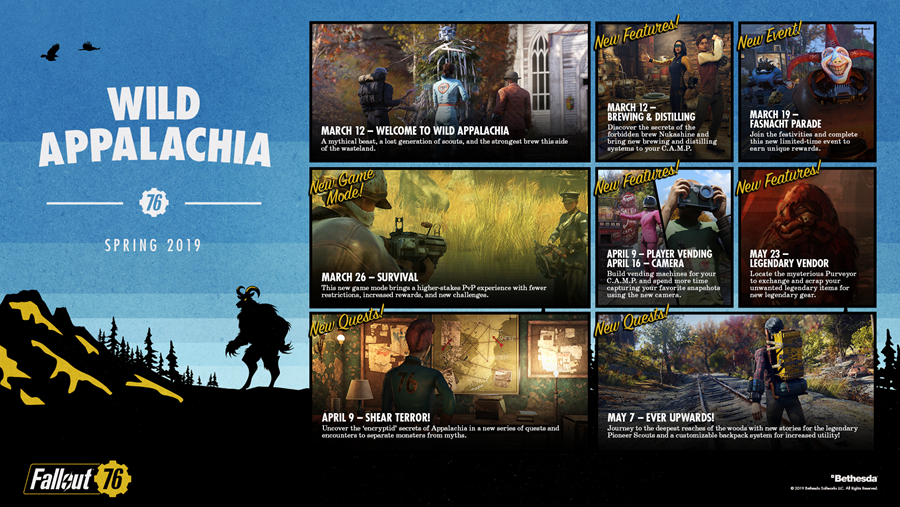 Described as a Spring update, the Wild Appalachia update will run from March 12 to May 7. It includes a higher-stake PvP experience with fewer restrictions, a new series of quests involving mysterious monsters, the ability to brew and distill, a parade event complete with new rewards, player vending, new in-game cameras, a new legendary vendor that sells special gear, and a quest that will see you venture deep into the woods and acquire a customizable backpack. 
The new quests sound interesting (even if they're a bit vague at the moment), but what's particularly fascinating about these updates is the number of new features coming to the game. Player vending has been hyped as one of the title's biggest upcoming features, and the ability to brew from your campsite may prove to be a fairly worthwhile distraction. It's also nice to hear that the game will enjoy a new PvP mode given how inadequate the original is. 
Beyond that, Fallout 76 will enjoy a summer update called Nuclear Winter which will add a new game mode and a fall update called Wastelanders which will add new main quests, events, and more. We don't know anything about those two updates at this time beyond those teases, though. 
Fallout 76 fans will certainly enjoy any new content for the game as the title's original offerings were bare and sometimes worse. Fallout 76 was not only burdened by controversy regarding everything from its treatment of the Fallout lore to the quality of the canvas bag that came with its Collector's Edition, but the game itself was seen by many as a hollow cash-in on the Fallout name. We previously suggested that some of the game's problems were telegraphed by the shortcomings and problems of Fallout 4. 
We'll bring you more on Fallout 76's upcoming DLC as Bethesda shares more details regarding the game's 2019 roadmap.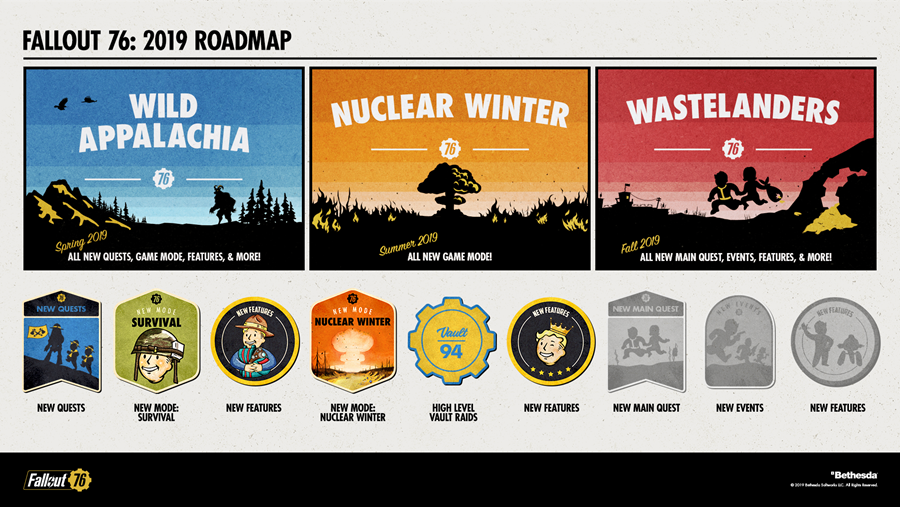 Matthew Byrd is a staff writer for Den of Geek. He spends most of his days trying to pitch deep-dive analytical pieces about Killer Klowns From Outer Space to an increasingly perturbed series of editors. You can read more of his work here or find him on Twitter at @SilverTuna014.