News
Fallout 4 Mod Adds Over 200 Halloween Songs
The most important Fallout 4 mod to date adds Monster Mash to the game.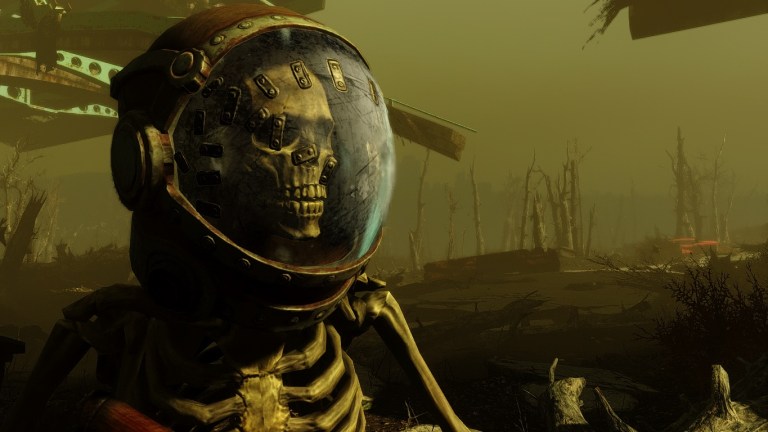 A new Fallout 4 mod will at some classic Halloween songs to the game's radio stations. 
The Spooky Scary Radio mod (created by NexusMods user, Natezomby) adds a "lore-friendly" radio station called Spooky Scary Radio to your Pip-Boy. That sounds like a pretty simple addition, but the creativity and track quality featured in this mod is downright impressive. 
Halloween-themed tracks include a stunning variety of spooky sounds from the '20s through the '60s. While we're particularly partial to the classic (and often very corny) tracks from acts like Bing Crosby and the Andrew Sisters, there's something to be said for some of the other songs that escape the limits of the kind of music that is typically included in Fallout games. For instance, the radio station features spooky poem readings (such as Vincent Price reading The Raven) as well as songs from classic horror movies (Dracula, Frankenstein, and even The Exorcist). 
The full list of tracks included in this mod effectively doubles as the ultimate Halloween party playlist. Even the songs which don't necessarily directly relate to Halloween or horror (such as Leadbelly's Where Did You Sleep Last Night) feel like they belong in a slightly scarier setting. In case you're wondering, definitive Halloween tracks like Monster Mash and Spooky Scary Skeletons are included on the tracklist. Best of all, the station is "hosted" by the one and only Alfred Hitchcock. 
All-told, this mod adds over 200 tracks to the game's current playlist. It's also compatible with many other radio mods in case you're really interested in expanding Fallout 4's selection of music by about a thousand tracks. 
After you've downloaded and installed the mod, you can access this station by tuning into radio station number 88.666. Sadly, this mod is only available for PC, but we suppose that console gamers could always make a playlist out of the game's tracks and just play it in the background. 
Matthew Byrd is a staff writer for Den of Geek. He spends most of his days trying to pitch deep-dive analytical pieces about Killer Klowns From Outer Space to an increasingly perturbed series of editors. You can read more of his work here or find him on Twitter at @SilverTuna014. 
Read and download the Den of Geek NYCC 2018 Special Edition Magazine right here!