News
Elder Scrolls Online: Wrathstone DLC Trailer and Release Date
Dragons are finally coming to Elder Scrolls Online along with the Elsweyr update.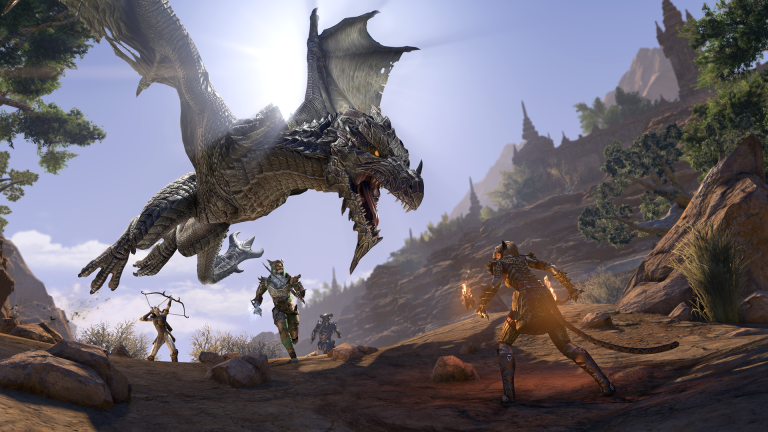 Elder Scrolls Online's next content release, Elsweyr, will begin with the release of the Wrathstone DLC game pack. This pack will include two new dungeons that see collect something referred to as the "Wrathstone tablet." This DLC pack will go live later today. Best of all, it will be available for free to all players, even if they aren't purchasing the game's next expansion. There are instructions on how to access the content over on the game's website.
In case you missed it, Elder Scrolls Online will soon receive a massive influx of new content that might change the game in some drastic ways. It seems that 2019 is being branded the "Year of the Dragon" for Elder Scrolls Online. For the first time, all four quarterly content releases that come out this year will be part of one epic tale. Each content release will tell a new chapter of this story. Details regarding this story are a bit thin at this time, but we do know that it will start with the massive Elsweyr content release. 
Elsweyr will take players to the homeworld of the Khajit (which is also one of the areas that fans have speculated could be featured in The Elder Scrolls VI). This area is described as being roughly the same size as the previous ESO zone addition (Summerset), which is really just another way of saying that it is going to be really, really big. That area will support all of the usual content updates (new dungeons, delves, trials, etc.). 
On top of that, players will be able to explore the area as the game's newest class, the Necromancer. These necromancers are described as one of the most requested additions to the game and will apparently be able to control dark magic that includes the ability to "command the dead and cast powerful elemental spells."
Of course, a Year of the Dragon wouldn't be much without any actual dragons. That's why dragons are finally joining the game after years of requests for the Skyrim icons to patrol the game's skies. These dragons will be added to the game in February and will largely star as part of global events that see them attack various areas of the world. Their full purpose and the extent of their involvement in the upcoming year of content remains to be seen.
The Elsweyr content add-on will be released in June. Until then, you can take advantage of a pre-order deal which will grant you immediate access to the base game along with the Summerset and Morrowind expansions. 
Matthew Byrd is a staff writer for Den of Geek. He spends most of his days trying to pitch deep-dive analytical pieces about Killer Klowns From Outer Space to an increasingly perturbed series of editors. You can read more of his work here or find him on Twitter at @SilverTuna014.