News
New Earthworm Jim Game Exclusive to Intellivision Amico
There's a new Earthworm Jim game on the way, but it comes with some pretty big catches.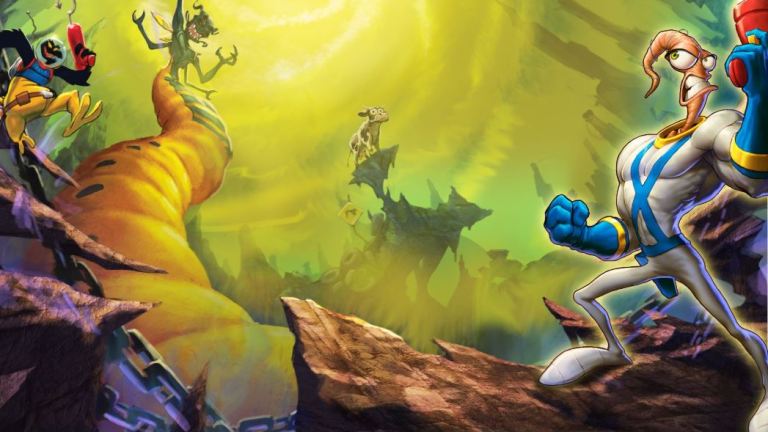 The good news is that the creators of the Earthworm Jim series are teaming up once more to develop a new entry in the franchise. The bad news is that you'll need to buy the upcoming Intellivision Amico in order to play it. 
Let's start with the (somewhat) good news. It sounds like many of the principal members of the Earthworm Jim development team are returning to work on this project. That possibly includes creator Doug TenNapel and composer Tommy Tallarico. That last name is quite significant in this instance as Tallarico is also the current boss of Intellivision. That first name is significant not just because he created Earthworm Jim, but because of TenNapel has attracted quite a bit of controversy in recent years over his radical political views and articles written for Breitbart. 
That last bit of information has long been a bit of a sore subject amongst Earthworm Jim fans who still love the series for its wonderful music, colorful graphics, and wonderfully ridiculous humor but find themselves having to decide how closely to associate the series with its creator. It's a little strange that one of the Intellivision Amico's biggest selling points is that it's a family-friendly console, and Intellivision has decided to team with someone who is sure to attract a great deal of controversy. Granted, it's always possible that the team behind this project may choose to distance itself from TenNapel whose involvement doesn't seem to have been confirmed beyond a doubt. It's also not entirely clear whether developer David Perry will join the team. 
There's also the issue of the Amico itself. We still don't know much about the Amico besides its family-friendly lineup of exclusives, the console's price (somewhere around $150), and a somewhat vague October 2020 release window. What we do know is that the console might prove to be a hard sell amongst gamers who are probably going to be saving up for a next-gen console and the games to go with it. That means that the next Earthworm Jim game might just be out of many gamers' reach. 
Focusing just on Earthworm Jim for a second, though, it's still a great franchise. The first two Earthworm Jim games are still worth playing today, and they comfortably rank among some of the better 2D action titles of their era. They also feature one of the best boss fights in any video game. 
However, we'd be lying if we said this reveal of a new Earthworm Jim game wasn't covered in disappointment. 
Matthew Byrd is a staff writer for Den of Geek. He spends most of his days trying to pitch deep-dive analytical pieces about Killer Klowns From Outer Space to an increasingly perturbed series of editors. You can read more of his work here or find him on Twitter at @SilverTuna014.