News
How Earthbound Was Saved by Former Nintendo President Satoru Iwata
In a new book, Earthbound's creator recalls how Satoru Iwata stepped in and saved the project.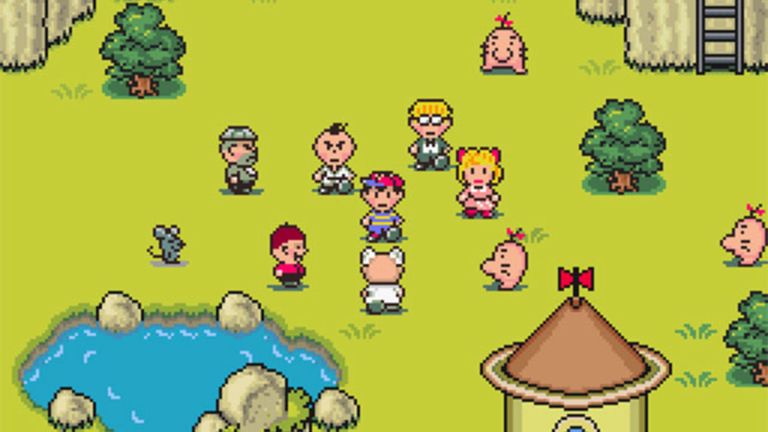 In a new book called Iwata-san, Earthbound creator Shigesato Itoi recalls how Satoru Iwata helped save Earthbound from a rough development cycle. 
"I think it was in Tokyo at Ape Inc, the studio where we were developing Earthbound, where I first met Iwata," said Itoi in the book (quote provided by IGN). "We were facing severe difficulties with the development of Earthbound. It had become so difficult that we had to ask Iwata's help."
This was actually an interesting period in Iwata's life. He was still serving as one of Earthbound developer HAL Laboratory's most gifted programmers, but he was also named CEO of the studio by then-Nintendo President Hiroshi Yamauchi after the developer encountered some financial troubles. In an old quote, Iwata recalls that the development of Earthbound was not "in a status where they could finish the game," so he told Itoi that it was simply not possible to complete it if they keep doing as they have been. It was then that he offered Itoi two options. 
"If we complete it by fixing what we have now, it will take two years," said Iwata. "If it is OK to start again from scratch, it can be done in a half year."
Basically, it seems that Iwata felt that many of Earthbound's principal elements were in place. However, it had become clear to him that the team had hit a creative dead end that wasn't allowing them to see the forest from the trees. Iwata gave the developers a choice of what to do so that he wouldn't "kill the atmosphere" by breaking the studio's spirits, and he also began working on Earthbound himself to show them what was possible from what they already had. Itoi recalls that Iwata's approach to these kinds of situations was one of his greatest abilities. 
"Of course (Iwata) had great skills, but it was his attitude that I found the most appealing," said Itoi. "Each time he would come over, it felt like I could trust him even more."
Iwata would go on to become President of Nintendo in 2002. His tenure saw Nintendo release the DS and Wii (two of the best-selling video game devices of all-time) and effectively save the company. He passed away in 2015 leaving behind a legacy as one of Nintendo's most beloved figures. 
As for Earthbound, it was eventually completed, but it struggled to sell well in the West due partially to a bizarre marketing campaign. However, it would go on to become a beloved cult classic that some (myself included) consider to be one of the best games ever made. Sadly, we haven't heard much about Earthbound in recent years as the N64 sequel to the game was canceled, and Mother 3 (the official sequel to Earthbound and its native Mother series), has never been ported to the West due to a variety of concerns. 
Matthew Byrd is a staff writer for Den of Geek. He spends most of his days trying to pitch deep-dive analytical pieces about Killer Klowns From Outer Space to an increasingly perturbed series of editors. You can read more of his work here or find him on Twitter at @SilverTuna014. 
Read and download the Den of Geek SDCC 2019 Special Edition Magazine right here!