News
EA Sports UFC Details Career Mode in New Trailer
EA has released a new gameplay series trailer for the upcoming next gen MMA game, EA Sports UFC...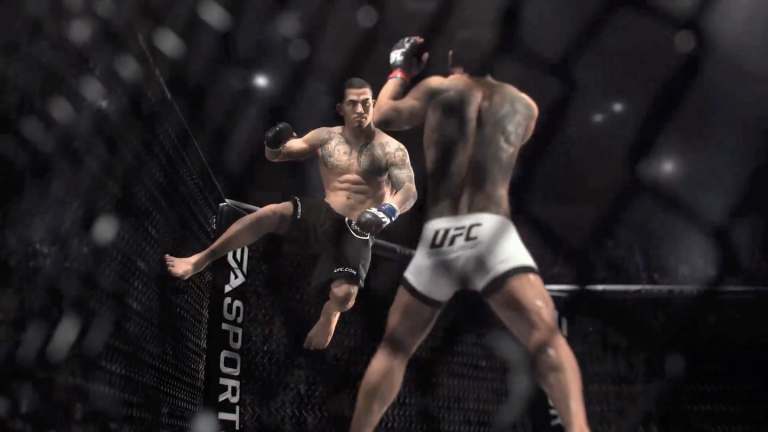 In a case of art imitating life, the UFC is taking the baton from boxing and EA Sports' beautiful but somewhat antiquated Fight Night series, debuting EA Sports UFC on the Xbox One and the Playstation 4 on June 17th. But while the next gen architecture will surely help keep the tradition of graphical majesty alive and well as EA Sports takes this next evolutionary step in the world of fight games… games, fight fans should also expect an immersive career mode that literally takes players into the game.
Thanks to EA's Photo Game Face technology you can load a picture of your pretty little face into the career mode and onto your custom made fighter, though I will personally try to load pictures of both John Travolta and Nic Cage's faces so that I can constantly switch them while giggling to myself quietly in a darkened room.
Once you've added your face (or the face of the guy who gave us Moment by Moment) to the game, you can then choose from 8 select body types for your fighter and 10 select fighting styles that include tae kwon do and muay thai, but likely not "slap, scream, and run" which is the combat discipline with which I am most familiar.
Your look and fighting style customized, you will then join one of two Ultimate Fighter teams where you will be coached by current UFC fighters before signing a contract and working your way up the ranks with kick punches, purple nurples, and all of the real moves that your character will earn in the game.
To be honest, though, all of this stuff seems pretty standard for any kind of fight game career mode. Be it a boxing, UFC, or WWE game, people love to inject themselves into these games for the escapist fantasy of it all, but EA Sports UFC also injects a bit of cold reality into the game by weighing a player's longevity alongside their popularity (which will help you advance).
All jokes aside, there is sheer brutality at play when two fighters get inside The Octagon in real life and the physical punishment that these fighters have to endure leaves a mark. In EA Sports UFC, that mark is recorded and players exit career mode when they have simply sustained too much physical damage to fight on. Just like in real life, idealy..
Coupling this detail with detailed fight plans, customization, interactions with UFC head Dana White and other fighters seemingly allows players to fully immerse themselves in the UFC experience, potentially delivering a game unto fight fans that is enhanced by top line visuals and not put to shame by them.
Once again, EA Sports UFC (with its career mode, Online Championship and Online Rivalry modes) premieres on June 17th for the Playstation 4 and the Xbox One.
Like us on Facebook and follow us on Twitter for all news updates related to the world of geek. And Google+, if that's your thing!