News
Dying Light: Bad Blood Battle Royale Release Date
Dying Light's Bad Blood battle royale mode will be available starting next month.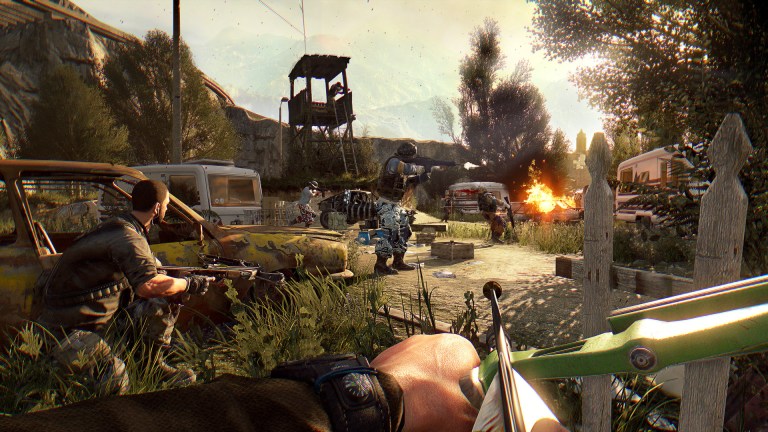 Dying Light's previously announced battle royale mode, Bad Blood, will be released via Steam Early Access in September. 
During its initial release, Bad Blood will only be available to PC players via the Early Access platform. However, the mode will also be released on PS4 and Xbox One at an undisclosed time and date. It's believed this Early Access period could last a few months, so it would probably be wise not to expect the full release of this mode until later in the year. If you want to try Bad Blood out as soon as possible, you'll be able to sign-up for an early playtest that runs from August 26-27 and a second playtest that will run from September 1-2 ahead of the mode's Early Access release later that month. 
In case you missed the initial reveal of this mode, be sure to check out this IGN first-look video of what Bad Blood looks like in action.
Dying Light'sBad Blood expansion will add a brand-new PvP mode to the game. The studio stated that this mode was designed to address numerous requests they received from fans regarding a new way to enjoy Dying Light's PvP elements. 
Their response will come in the form of what they describe as a nod to the "recent popularity of the Battle Royale genre among the survival horror fans." Unlike other popular PvP modes, this one will only allow six players to do battle. Actually, describing it as a "Battle Royale" mode really only tells half the story. Much like the upcoming title Hunt: Showdown, this mode will combine PvP and PvE elements. 
In Bad Blood, you and five other players will occupy an area filled with zombies. In order to escape, you'll need to scavenge for weapons, resources, and use the blood samples of the infected in order to unlock more seats on the escape helicopter. That means that you will ideally be working with your fellow survivors in order to ensure that everyone makes it to the end. However, it is entirely possible that not everyone will find enough resources to ensure that there are enough seats for the entire party. Someone might also decide to just go into business for themselves. 
Regardless, it seems that everyone will need to pay for their individual seat meaning that teamwork will likely only get you so far. 
This actually sounds like a pretty interesting use of the basic Battle Royale system. It fits within Dying Light's design space, but it incorporates aspects of popular games within this genre. 
Matthew Byrd is a staff writer for Den of Geek. He spends most of his days trying to pitch deep-dive analytical pieces about Killer Klowns From Outer Space to an increasingly perturbed series of editors. You can read more of his work here or find him on Twitter at @SilverTuna014. 
Read the latest Den of Geek Special Edition Magazine Here!