News
Duke Nukem Movie Adds Assassin's Creed Producer
The Duke Nukem movie is still alive and is finally moving forward, with John Cena remaining the rumored star.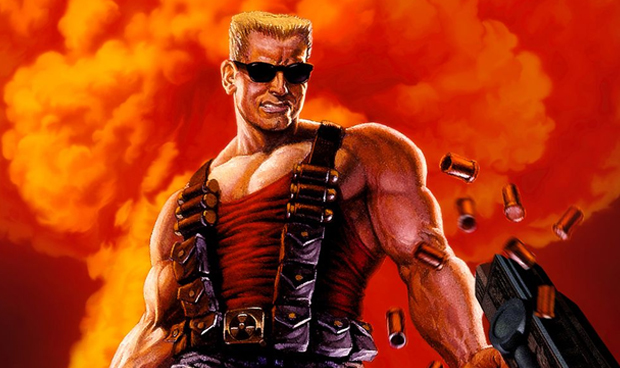 Duke Nukem is headed to the big screen. It's taken a long time, but there seems to be solid progress on bringing the ultraviolent classic video game character to the big screen.
WWE franchise-face wrestler John Cena – whose stock as a movie star is rising, notably with his appearance in December's Transformers spinoff, Bumblebee – was reportedly eyed back in January 2018 to star as the lewd, crude, flattop-rocking, heavily-armed exploder of things. While, nearly a year later, that rumor remains, we've heard next to nothing about the project ever since. However, as 2018 rounds the finish line, there finally appears to be some movement.   
In the latest Duke Nukem movie news, Variety is reporting that a new producer in Jean-Julien Baronnet has been tasked with adapting the video game franchise for the film. Baronnet comes into the project off his work as producer on another prominent video game movie, 2016's Assassin's Creed, which starred Michael Fassbender as the DNA-time-travelling acrobatic cutthroat. Barring work as exec producer on the 2012 live-action video game tie-in short, Ghost Recon: Alpha, Assassin's Creed was Baronnet's first feature experience, with his only other credit being an executive producing run on animated series Rabbids Invasion.
Baronnet, representing Marla Studios, joined by (IP owning company) Gearbox Software VP of business development Sean Harran, has reportedly been meeting with writers in recent weeks, which represents a major step forward in the process of getting the Duke Nukem movie off the ground. Their approach to the adaptation appears to evoke the creative – and financial – R-rated success achieved by Fox-Marvel's meta-minded, mirthfully violent Deadpool movies. As Harran explains:
"He's a parody of 1980s action heroes and he's like Deadpool in terms of being able to break the fourth wall. We see a lot of humor in his confronting the values of today while trying to save the world."
Baronnet chimes in with a PC-eschewing promise, stating:
"Duke is exactly the kind of very blunt character that we need in the world today."
Despite it being on the radar for years, we're still in the early stages of the project, with neither a writer nor a director in place yet. But the plan is to make this is a starring vehicle for rumored star Cena, presumably with a view toward a franchise. Interestingly, the prospective casting of Cena – who's generally seen as a clean-cut WWE personality and the epitome of the wrestling corporation's current era of PG content – might make one think that an R-rated movie is off the table. However, Cena is, for all intents and purposes, retired as a full-time performer, and his young fans have mostly grown up. Plus, he's already appeared in some R-rated efforts, notably 2018 comedy Blockers, 2017 war drama The Wall and 2015 Amy Schumer comedy vehicle Trainwreck.
As of now, Gearbox is still working on the Duke Nukem movie project with Michael Bay's Platinum Dunes (ensuring appropriate levels of onscreen testosterone), though it appears that Paramount Studios – previously involved – is no longer onboard.
The popular Duke Nukem video game franchise follows a titular protagonist who smokes, swears, kills, and saves the world. Duke debuted in the eponymous 1991 first game, a side-scrolling DOS offering developed by Apogee Software. Sequels would follow until the franchise added a new dimension with the multi-platform first-person shooter, Duke Nukem 3D, in 1996. The fourth game, Duke Nukem Forever, did, indeed, take pretty much forever to arrive, eventually landing in 2011. It did not land well, either.
The last we saw of Duke was as a pre-order bonus for the remastered version of Bulletstorm. Original voice actor Jon St. John even recorded a few new lines for the game. Gearbox Software, which owns the rights to Duke Nukem these days, had a plan to reboot the franchise back in 2011. Sadly, we've not heard anything more about what the developer was dubbing "Duke Nukem Begins."
More on the Duke Nukem movie as we learn it!
Joseph Baxter is a contributor for Den of Geek and Syfy Wire. You can find his work here. Follow him on Twitter @josbaxter.