News
Disney Infinity: Cancelled 4.0 Version Would Have Featured Aladdin and Yoda
The cult classic Disney Infinity series lives on in this 4.0 trailer.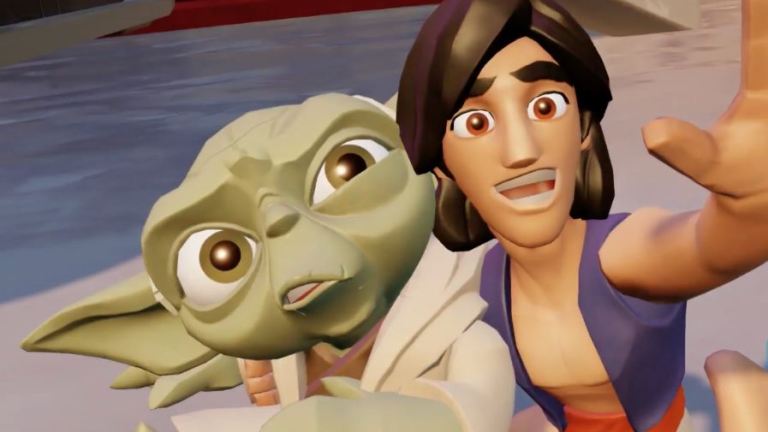 New footage of the previously cancelled Disney Infinity 4.0 has emerged online.
The footage seems to have spread via ResetEra where a user posted it alongside a couple of supposed screenshots from the game. While that user didn't share where they acquired this footage – or if they are the same person who originally uploaded it – the consenus at the moment seems to be that it is legitimate.
It seems that Disney Infinity 4.0 was to be titled "Kingdoms" and seemingly take place largely in an expanded version of Agrabah from Aladdin. Aladdin, Jasimine, and other notable characters from the film would have made an appearance, but much like the other Disney Infinity titles, Kingdoms would have featured characters from a variety of Disney properties. In the trailer alone, we see Yoda, The Incredible Hulk, Spider-Man, characters from Zootopia, Rocket, and more.
Actually, it looks like the plan was for this game to focus on Aladdin and Yoda as primary characters. The developer narration in the trailer references establishing the relationship between these two, and they share much of the screen time. On top of that, it seems that Kingdoms would have eventually seen storm troopers and other Star Wars characters invade Agrabah.
Aside form the plot specifics, the most interesting thing about this trailer is how far along the development of 4.0 was. While the narrator notes several times during the presentation that there are aspects of the gameplay that aren't finished yet, the team clearly had the basic story structure in place and were seemingly pretty close to having a final product on their hands.
Of course, that's before the Disney Infinity series was cancelled in 2016. Those who remember the ambitious toy/video game crossover series fondly will no doubt look at this footage and wonder whether or not the concept was scrapped too soon. After all, it looks like the developers were just starting to understand how this concept could become something more substantial than a marketing campaign.
Matthew Byrd is a staff writer for Den of Geek. He spends most of his days trying to pitch deep-dive analytical pieces about Killer Klowns From Outer Space to an increasingly perturbed series of editors. You can read more of his work here or find him on Twitter at @SilverTuna014.