News
Dishonored 2 Hands-On Preview & First Impressions
Dishonored 2 doesn't recreate the original's success, it redefines it.
"On day one of Dishonored, no one had ever heard of Dishonored. On day one of Dishonored 2, millions and millions of people will have heard of it." 
Harvey Smith, director of Dishonored 2 and game design veteran, shared this thought during a recent Q&A session that followed my hands-on playthrough of Dishonored 2. In doing so, he summarized the problem at the heart of Dishonored 2's pre-release hype. The first Dishonored had the advantage of being a new IP. As such, some of its design trespasses could be forgiven in light of its attempts at something original. Once Dishonored 2 was announced, though, suddenly the shortcomings of Dishonored were being dragged into the spotlight. Some gamers wondered if Dishonored had the ability to join titles like The Elder Scrolls as one of Bethesda's great gaming franchises.
"Sequeling a popular game is not as easy as you think," said Smith. "If you change it too much, you lose the original audience. If you don't change it enough, you lose the original audience and the new audience."
There, Smith seems to be making reference to his work on Deus Ex: Invisible War, a game that Smith and others criticized in the past for failing to properly follow-up on the innovations of the original. It's clear that, in that sense, the Dishonored 2 development team share the same worries that the franchise's fans do. What if Dishonored 2 isn't worthy? 
The funny thing about that fear is that all it takes is a few minutes with the game to realize that neither party has any reason to worry.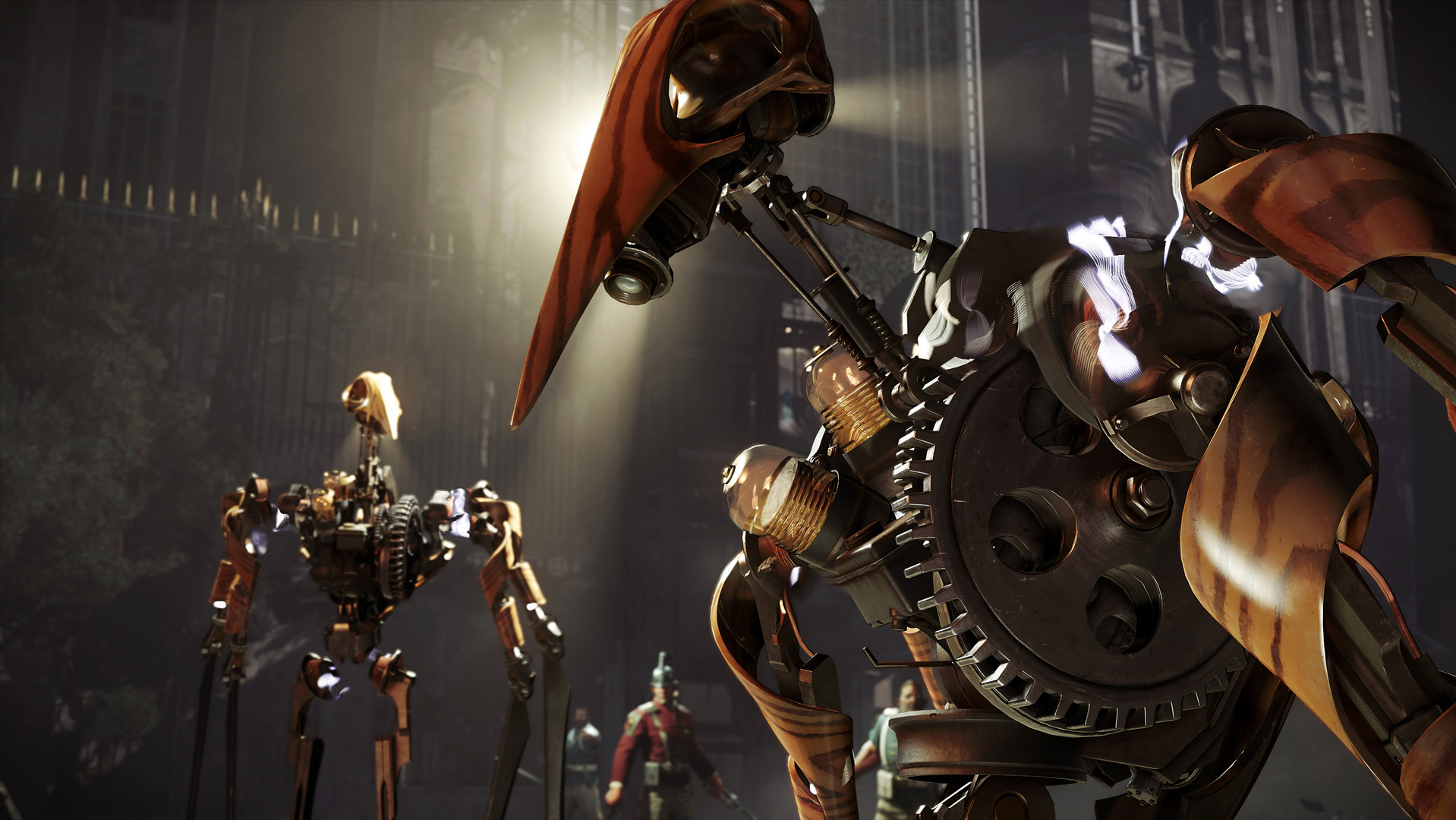 My time with Dishonored 2 put me into the boots of Emily Kaldwin, the series' newest protagonist, as she rode in a carriage en route to the home of Kirin Jindosh, a famed inventor whose death she is tasked to deliver. Upon entering his mansion, it soon becomes apparent that this is no normal stately manor. Kirin Jindosh has rigged his home to change shape via the use of carefully placed levers. Even worse, he's populated it with clockwork soldiers that are built specifically to destroy intruders. If you manage to take their heads off, they can still find you on sound alone. 
The presence of these soldiers was my first indication that Dishonored 2 will challenge players in ways that the first game did not. Smith states that the increase in difficulty is due, in part, to the fact that we are being dropped into a midway point in the game, but also because players are now familiar with the basic Dishonored experience. As such, the developers feel they are able to further explore what they can ask of the player.  
Whether I was being mercilessly taken down by a clockwork or falling prey to a number of household traps, I died more times in the initial few minutes of the Dishonored 2 demo than I care to admit. Of course, some of that can be attributed to the sequel's increased emphasis on combative gameplay coming with consequences that will require a respectable amount of skills to deal with. As my own particular skills in that department are less than stellar, I constantly found myself learning from under the crushing weight of my decisions. Even worse, I had to endure the taunting voice of Jindosh, who mocked my efforts at every turn over a loudspeaker. 
Here's the funny thing about all that. The ever-changing mansion, the clockwork aesthetics, the taunting voice (described by Smith as "Shodan-like"), and all these other incredible design elements are all exclusive to this level. Every mission in the game will feature a unique aspect that defines it. For instance, a later mission will feature changing weather conditions that force you to change your tactics. Another will feature time-travelling capabilities that allow you to warp between two different periods in order to find solutions. 
That amount of variety is incredible. The design of Jindosh's clockwork mansion features so many possibilities (sneaking between walls, riding gears, using decapitated sentries to dispose of human guards, etc.) that it's easy to imagine a good portion of Dishonored 2 relying on a similar mechanic. The thought that each level may feature an equally compelling, but entirely unique hook is the kind of thing single-player gaming fans dream of. 
It's also the exact kind of quality that Dishonored 2 needs to distinguish itself. When I asked Smith regarding his preference of open gameplay in more traditionally structured levels as opposed to pure open-world gameplay, he stated that while both approaches are valid, this method allows the developers to create a mini-open world for each mission and "drive the theme" of each world. Design-wise, this philosophy leads to a stunning mix of old, new, and something else entirely. 
The variety in Dishonored 2 doesn't stop at the levels, either. At the start of the game, players will be able to choose between the first game's protagonist Corvo and series newcomer Emily. While the basic story plays out largely the same regardless of the character you choose, the characters themselves are quite different. They behave differently, they each sport different powers, and they even fight differently. Smith states that their different fighting styles were partially inspired by designer Dinga Bakaba. Bakaba is a Capoeira (Brazilian martial arts) instructor who teaches both men and women. As such, they were able to incorporate the differences between the genders into animations. 
As for the different powers, those represent the character's personalities. Emily's ability to turn into a shadow creature, for example, represents her transformation from privileged socialite to darkened soul. Corvo's ability to disguise himself, meanwhile, represents his inherent xenophobia. It's a layer of intelligent design that is not only impressive on its own, but often times encourages you to complete missions in the same way you feel the character might have. 
Despite the differences in approach, all roads lead to the same brand of compelling gameplay that made the original Dishonored so great. Once again, you are able to choose exactly how you want to approach every problem the game presents. The general notions of stealth, assault, or something in-between are your basic guides, but the specific methods that will help get you where you're trying to go are truly limited only by how willing you are to explore the possibilities. Will your trials and errors lead you to discover a subtle approach, or are you determined to complete that effortless chain of lethal tactics? Both pursuits are more viable than ever. 
It's too early to call Dishonored 2 one way or the other, but my short time with the game made it abundantly clear that Arkane Studios are indisputably on the cusp of something special. As gamers and critics, we talk all the time about sequels that retain what makes the original great while improving deficiencies and adding a few innovations for good measure. We talk about it so often, in fact, that you start to get the impression such a thing is easy. 
It's not easy, though. As for sequels like Dishonored 2 that potentially recreate the magic experience of the original while attempting to address nearly every popular complaint that held Dishonored back…well, those are the kind of sequels that are worthy of your hype even in an age when such a thing is treated as folly. 
Matt Byrd is a staff writer.