News
Diablo Immortal Mobile Game: Release Date, Trailer, and News
Diablo goes mobile in Diablo Immortal. Here's everything you need to know about this controversial mobile game...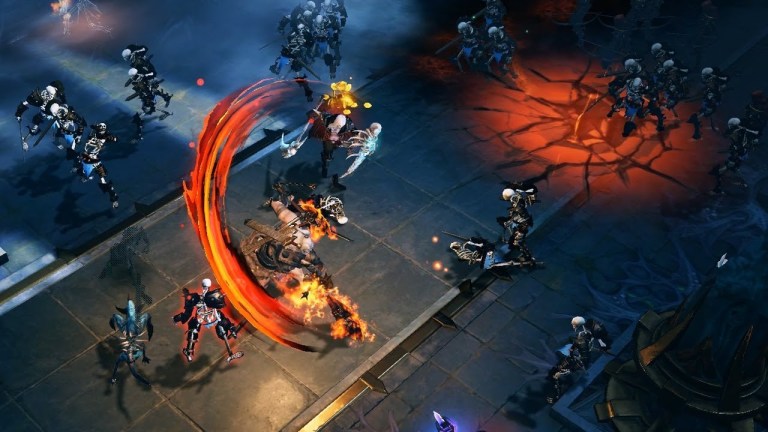 Diablo is going mobile with Diablo Immortal. Described as a "full-fledged action RPG," Diablo Immortal will serve as direct follow-up to Diablo II: Lord of Destruction. That means that it will complete the stories of certain characters that appeared in that game as well as continue some of the storylines that weren't necessarily addressed in Diablo III. However, it feels like more of a spin-off than a direct sequel (hence the name). 
So far as that goes, Diablo Immortal does look like a Diablo game in all the ways you'd expect a Diablo title to carry on the legacy of its predecessors. There's hacking, slashing, looting, various character classes to choose from, and a variety of in-game abilities. It's pretty clear that Immortal will utilize the base gameplay that has made Diablo the legendary franchise it is. 
However, it's equally clear that this game will alter the franchise formula in some notable ways. First off, it's described as a massively multiplayer game that allows players to drop in and out of gameplay sessions as well as participate in certain scheduled events. Second, we can see from a few of the sequences in the trailer (including one that shows the player climbing down a pit) that this mobile title will feature a greater variety of gameplay scenarios. You could almost say that it looks a little more "arcade-like' than previous Diablo games. 
We imagine that possibility will raise concerns regarding Immortal's depth and its use of less-than-popular mobile microtransaction systems. At this time, it's not clear how "mobile" this Diablo mobile game will be. Blizzard made no reference to any microtransactions during the game's reveal, and the gameplay was limited to a heavily edited trailer. That said, we imagine that this game will take full advantage of the mobile market (if you know what we mean). 
Diablo Immortal Release Date
Diablo Immortal doesn't have a confirmed release date (it will most likely be released in 2019), but you can pre-register for the iOS and Android versions via this website.
Diablo Immortal Trailer
Here's the announcement trailer:
Matthew Byrd is a staff writer for Den of Geek. He spends most of his days trying to pitch deep-dive analytical pieces about Killer Klowns From Outer Space to an increasingly perturbed series of editors. You can read more of his work here or find him on Twitter at @SilverTuna014.