News
Devil May Cry 5 Has Multiplayer and Microtransactions
Devil May Cry 5 will let you play with friends and spend a little extra money.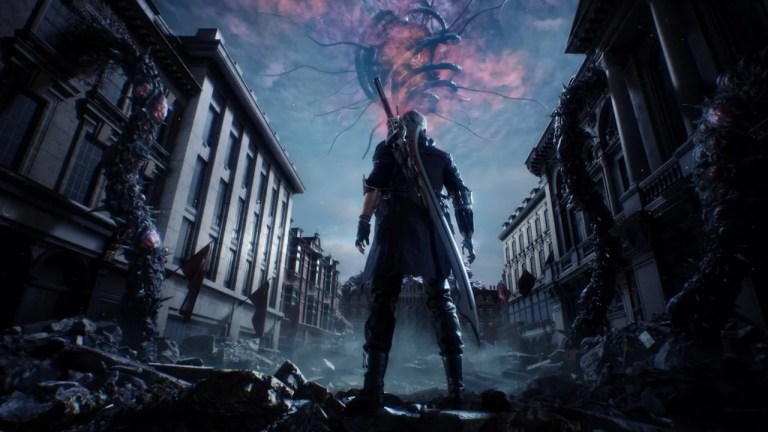 Devil May Cry 5 will reportedly support online multiplayer for up to three people. 
While Capcom has yet to reveal the feature, the game's PlayStation store listing notes that it supports multiplayer for up to two or three players. In lieu of any official details, fans are speculating that the game's three playable characters (Nero, V, and Dante) will likely be involved in some kind of side mode that will see them face off against a horde of enemies or some similar level of opposition. At the moment, few suspect that the game's multiplayer will be tied into the main storyline. 
For what it's worth, Devil May Cry 5 director Hideaki Itsuno told Eurogamer that the team "designed this game specifically to make the best single-player experience we can" and that single-player has "always been the focus." However, he did say that we will have to "wait and see" regarding the game's online and multiplayer functionality. 
The idea of multiplayer in Devil May Cry is certainly enough to get fans talking, but nothing has generated more buzz about the game than the reveal of its microtransaction system. Yes, Devil May Cry 5 will feature microtransactions that let you buy orbs at Divinity Statues in order to level up your character. This isn't the first time that a Devil May Cry game has featured such a system (nor is it the only controversy surrounding this game), but Itsuno still felt the need to assure gamers that this system will not really impact those who just want to play the game. 
"With giving people the ability to purchase Red Orbs, it's something we want to give people as an option," said Itsuno in an interview with Gamespot. "If they want to save time and just want to get all the stuff at once, those people can do that. But on the other hand, I don't feel you have to get all the moves. You should be able to play it the way you want to play it."
The hope is that Devil May Cry 5's microtransaction system will just be there for those who value their time more than the money they spend leveling up their character faster. Nevertheless, some still worry that it will have an impact on how resources are distributed in-game. 
Matthew Byrd is a staff writer for Den of Geek. He spends most of his days trying to pitch deep-dive analytical pieces about Killer Klowns From Outer Space to an increasingly perturbed series of editors. You can read more of his work here or find him on Twitter at @SilverTuna014.