News
Detective Pikachu Game: New Trailer Features Talking Pikachu
Detective Pikachu is coming to North America and it's unlike any Pokemon game you've ever played. Here's a new trailer...
Proving that Nintendo can get away with just about any concept, the 3DS game Detective Pikachu is now scheduled for a worldwide release on March 23.
If for any reason you do not keep up with the weird and wonderful world of Japanese exclusive video games, then you've probably never heard of Detective Pikachu. First released in Japan in 2016, this adventure game follows a young boy who stumbles upon a Pikachu that claims to be a detective. It's not long before they start chasing two condiment wielding creatures who are causing havoc amongst the general population. That leads to a much larger case involving ice beams and other things so weird that we couldn't properly spoil them if we wrote an encyclopedia about the game's plot. 
The actual Detective Pikachu gameplay consists mostly of walking around and gathering clues. It's…well, the main draw of the Detective Pikachu experience is certainly the bizarre plot and the game's strange take on the Pokemon universe. Just listen to Pikachu talking like a grown man…
So far as that goes, the game's story plays out over the course of two episodic adventures. The second episode of Detective Pikachu is set to release in Japan in March. At the same time, Western gamers will receive a 3DS port that features both Detective Pikachu episodes. 
Alongside that Western collection, Nintendo will release a new Detective Pikachu Amiibo. Just look at the size of this thing compared to the old Smash Bros. Amiibo Nintendo previously released: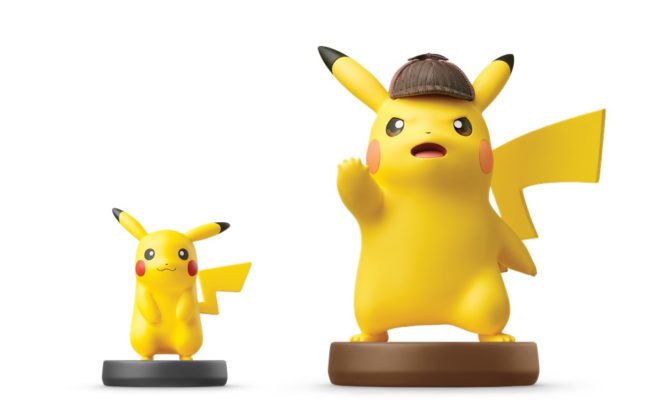 Don't be surprised if you hear quite a bit about Detective Pikachu in the coming months. Between the game's next episode, its Western release, and the upcoming Detective Pikachu film starring Ryan Reynolds (naturally), it seems that Nintendo is convinced that the sight of Pikachu in a Sherlock Holmes detective get-up is enough to get people to throw their money at several screens. 
Frankly, we tend to agree.