News
Destiny: Everything You Need to Know About September Events
Here is a quick look at all of the great endgame content Bungie is launching for Destiny in September and October!
We're still busy making our way through Destiny's campaign — we're working journalists, give us a break! — and already Bungie has announced endgame content for September and October. It didn't take long for players to reach level 26, did it?
Here's a look at what's coming for the rest of the month: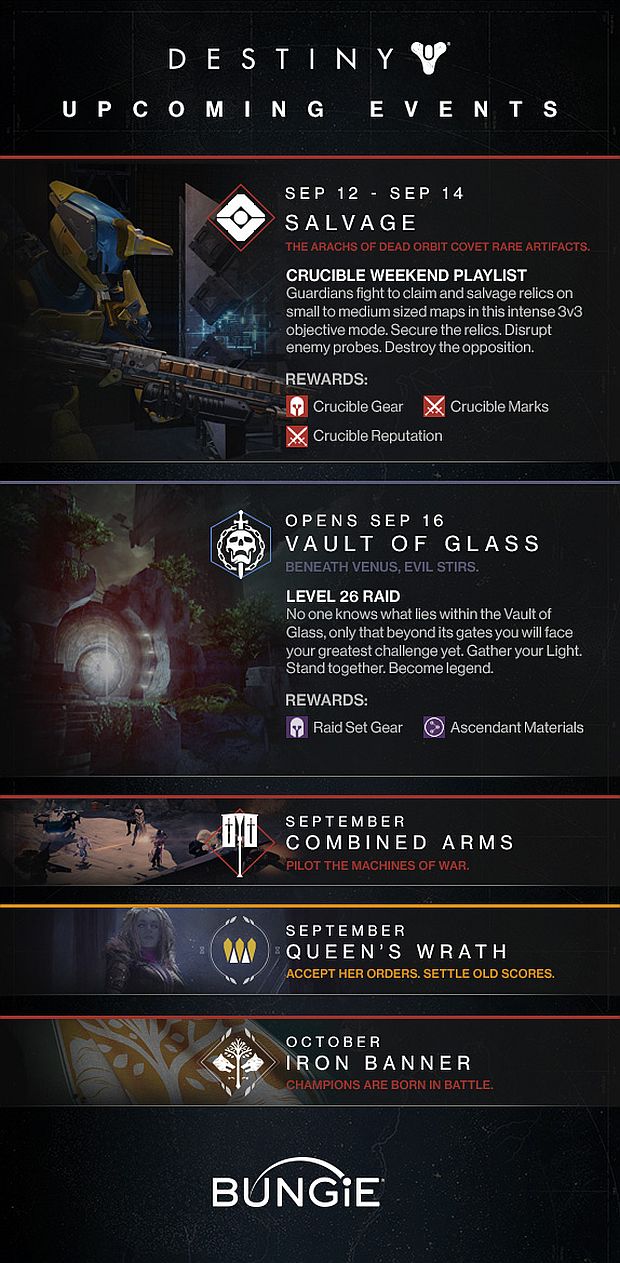 Salvage is a 3v3 Crucible playlist that launches TODAY. Teams fight it out while salvaging relics on medium- to small-sized maps. It's a great start to Destiny's active multiplayer experience. Known for the classic Halo multiplayer, expect Bungie to keep things fresh in this sector.
On Sept. 16, we get our first raid! Again, for you over-achievers who leveled up to 26 already, this is where you'll find your first big piece of endgame. It launced on Tuesday, and it took 14 hours for the first team to beat it. It is very, very difficult. I recommend you defintely level up as much as you can before attempting this suicide mission on Venus.
Combined Arms is a multiplayer playlist with heavy emphasis on vehicles and heavy weapons. And it's out TODAY! Rewards include Crucible gear, marks, and reputation. I figure this won't be too far off from Halo's Big Team Battle, but what do I know. 
Queen's Wrath sends you back to The Reef, where the Awoken Queen is waiting to cash in that favor you ower her. New challenge and missions await you. This sounds like a bit a stoy expansion. Or more Strikes. Rewards will include Legendary and Rare gear…Hopefully. This event will run from Sept. 26 to Oct. 6.
Finally, the Iron Banner arrives in October. You might remember this multiplayer playlist from the beta. Basically, it's no-holds-barred Crucible action. There are no restrictions on abilities, no even playing field. You go in with all the cool stuff you've earned in the campaign and come out a glorious champion or a bloody mess. I suggest you get to 26 before even attempting this.
More on Destiny endgame as we learn it. And make sure to check out our official review!
For more on Destiny, visit our coverage hub.
Like us on Facebook and follow us on Twitter for all news updates related to the world of geek. And Google+, if that's your thing!