News
Death Stranding: Trailers, Release Date, Gameplay, Cast, Story, and News
Everything you need to know about Death Stranding, including latest news, release date, trailers, and much more!
Hideo Kojima, the famed creator of the Metal Gear series, returns from a brief hiatus after his highly publicized exit from Konami with his strangest concept yet: Death Stranding, a game that's all about connections, according to the developer. Kojima's goal is to create a game where players interact with each other beyond just trying to kill each other. 
The game stars Norman Reedus and Mads Mikkelsen. It also features some collaboration with beloved director Guillermo del Toro, who previously worked with Kojima on the ill-fated Silent Hills project.
Here's everything else we know:
Death Stranding Release Date
Death Strandingwill release on November 8, 2019. It is currently set to be a PS4 exclusive. 
Further Reading: Exploring Metal Gear Solid's Hidden Horror
Death Stranding Trailer
The Death Stranding launch trailer focuses on the story of the game. Watch it below:
Finally, the moment you've been waiting for! Hideo Kojima has lifted the veil on the mysterious Death Stranding with two trailers that show off almost 50 minutes of gameplay as well as a 7-minute look at the game's story. You can watch them both below:
A series of trailers arrived at Gamescom 2019! The first one teased some more gameplay:
We also learned more about the characters Mama and Deadman as well as what the whole baby business is all about:
At SDCC 2019, we learned a bit about the character Heartman:
Here is the much-hyped release date trailer for Death Stranding. It's quite the sight and a lot to take in at over eight minutes long, so be sure to set some time aside to enjoy it:
Another arrived at TGS 2018. It confirmed that Troy Baker is playing a villain in the game. Check it out below:
E3 2018 featured the debut of Death Stranding's gameplay a few more details about its story. It's a long look at the game, but you've got to see it. 
Another Death Stranding trailer premiered at The Game Awards 2017 and it's our best look at this haunting game yet! Check out the trailer below:
The second trailer for Hideo Kojima's next game was revealed at the 2016 Game Awards. The big story here is the appearance of everyone's (at least second) favorite Hannibal Lecter, Mads Mikkelsen. Check it out:
Here's the very first trailer for the game:
Further Reading: Why 1987's Metal Gear Is Still Important
Death Stranding Cast
The full, star-studded cast of Death Stranding was revealed at E3 2019. The cast is as follows:
Norman Reedus – Sam Porter Bridges
Mads Mikkelsen – Cliff
Lea Seydoux – Fragile
Margaret Qualley – Mama
Troy Baker – Higgs
Lindsay Wagner – Amelie
Nicolas Winding Refn – Heartman
Guillermo del Toro – Deadman
Tommie Earl Jenkins – Die-Hardman
Further Reading: Silent Hill, BioShock, and the Art of Scary Games
Death Stranding Poster
Kojima tweeted this promotional image for Death Stranding around the time of E3 2017. The image's use of the word "Bridges" is particularly interesting because, as IGN points out, that word was also seen in the game's second trailer.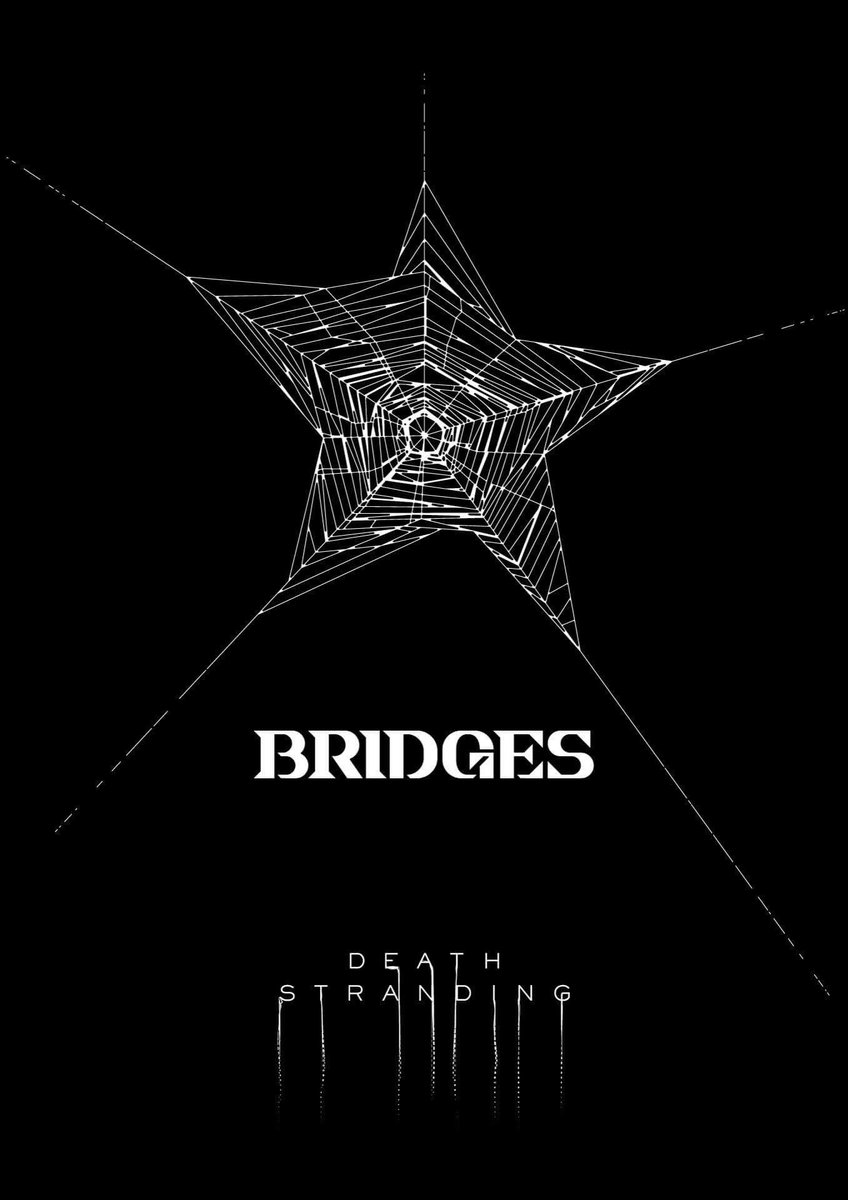 John Saavedra is Games Editor at Den of Geek. Read more of his work here. Follow him on Twitter @johnsjr9.