News
DC Universe Online: The Teen Titans Star in the Game's Latest Episode
We got to speak to DC Universe Online's SJ Mueller about the MMO's new episode, Teen Titans: The Judas Contract!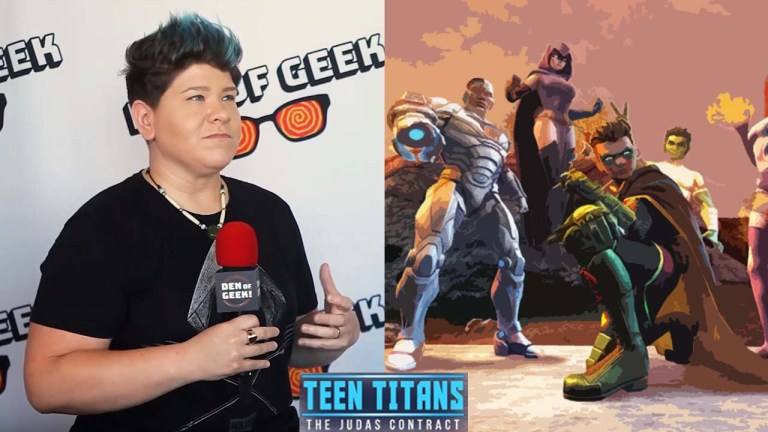 At this year's San Diego Comic-Con, we sat down with SJ Mueller, the creative director behind DC Universe Online, to discuss the launch of Teen Titans: The Judas Contract, the MMOs newest content drop, plus a new Atlantis Episode coming soon. Indeed, the game's developer, Daybreak Game Company, is still hard at work on bringing the most beloved DC heroes, settings, and moments to players almost a decade after the game first launched in 2011.
DC Universe Online is a free-to-play action combat multiplayer online game set in the fictional universe of DC Comics (and not the DC cinematic universe) — Mueller was keen on making that distinction. The latest character designs are inspired heavily right by DC's 2016 Rebirth relaunch, so don't expect to see flowing Jason Momoa hair on Aquaman.
The new Teen Titans episode is inspired by the 1984 comic book storyline of the same name from legendary Titans creators Marv Wolfman and George Perez. "The Judas Contract" is still remembered today as a particularly high point of Wolfman and Perez's run. But don't expect this to be a direct adaptation of the classic Titans story. In fact, Daybreak has made some tweaks to the roster. 
To modernize the story a bit, Damian Wayne, son of Bruce Wayne and the current Robin in the comics, is the Boy Wonder who will star in the latest DCUO episode. (The original storyline features Dick Grayson in the role right before his transition into the vigilante Nightwing.) Damian Wayne is one of Mueller's personal favorite characters from the comics.
"That was probably the most fun I've ever had bringing Damian Wayne in cause he's constantly judging everyone around him," she revealed.
The development team faced an interesting challenge with the Titans: catering to the game's younger audience — the target audience of Teen Titans stories — while also pushing the boundaries of these characters. In Mueller's words: "It's finding that fine balance to make everybody happy."
Watch our full interview with SJ Mueller below: