Features
David Cronenberg's Body Mind Change web experience
The visceral fascinations of director David Cronenberg form the basis of an experimental new online experience, Body Mind Change...
Since the 1970s, director David Cronenberg has probed the edges of science in his films, with their fleshy mutations, disease-spreading leeches and body-machine interfaces. And as the technology around us begins to edge ever closer to our own bodies, the ideas present in Cronenberg movies like Videodrome and eXistenZ begin to seem less like nightmarish fiction and more like an inevitability.
Which brings us to Body Mind Change, a web experience which is as ominous and probing as you'd expect from Cronenberg. Fusing videogame, movie footage, sound and invasive questioning, it's an offshoot of an exhibition Cronenberg first introduced at the Toronto International Film Festival a few months ago – in fact, the website's been going for a little while now, building up its fictional (we think) story about a biotech research corporation called BMC Labs.
Head to the website and enter a few personal details, and you'll begin the process of creating and calibrating something called a POD – a slug-like, gooey little organism which is designed to interface with your brain and possibly improve it. Exactly what effect it will have depends entirely on the responses you give to an artificially intelligent computer, which uses the feedback to build your own unique POD.
It's a weird, disquieting experience, which starts moodily before gradually assaulting you with increasingly troubling images – and by the time the computer starts asking you about what you find disgusting, you almost begin to question whether you should be answering its questions honestly or not.
The use of sound, moving images and interactive sequences immediately recalls Mel Croucher's pioneering and sorely overlooked art game Deus Ex Machina from the 1980s, which was itself strangely nightmarish at times.
For devotees of Cronenberg's brand of body horror movies, though, there's an additional fascination to be found in Body Mind Change – there are obvious allusions to his 70s and 80s movies such as Shivers and Videodrome to be found throughout (including some very familiar sound effects), as well as the director's compelling notions about how technology affects the way we think and react.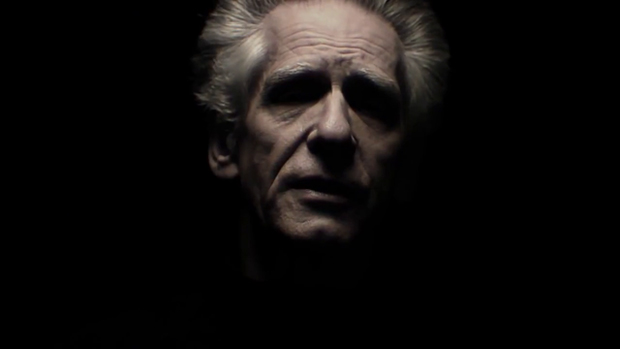 At the time of writing, we're not quite sure what's going to happen once this creepy-looking POD thing is complete – the whole experience is made up of three 'simulations', each amounting to around 20 minutes each, with the second and third simulations becoming available over the next few weeks.
Given just how disturbing the first simulation is, with its field orgies and journeys into formative, dark childhood experiences, we're slightly dreading the process of finishing the other two, but fascinated to see how it all turns out. According to a press release, which came out in time to coincide with the TIFF, visitors will be able to go to the BMC Labs installation at the CIBC Candadian Film Gallery to pick up their own physical, personalised POD in January 2014.
We dread to think what ours will look like – what will our innermost fears look like when made a reality? – and we can't really afford the air fare to Canada to find out. But according to an interview with one of the experience's lead designers, Lance Weiler, the Body Mind Exchange project also takes in 3D printing, so we're guessing that the user feedback from the site is taken and made into a physical model, which is an ingenious idea.
For anyone keen (and brave) enough to take the plunge and try Body Mind Change for themselves, bear in mind that some of the scenes and noises the site emits are decidedly NSFW. The experience also has a decidedly Cronenbergian way of getting under your skin, which is also worth considering. As Weiler himself put it, the question isn't so much, "How can I step into Cronenberg's world", as "How long would I want to stay…?"