News
Danger Zone Turns Burnout's Crash Mode Into a Full Game
Cue Archer sound clip...now.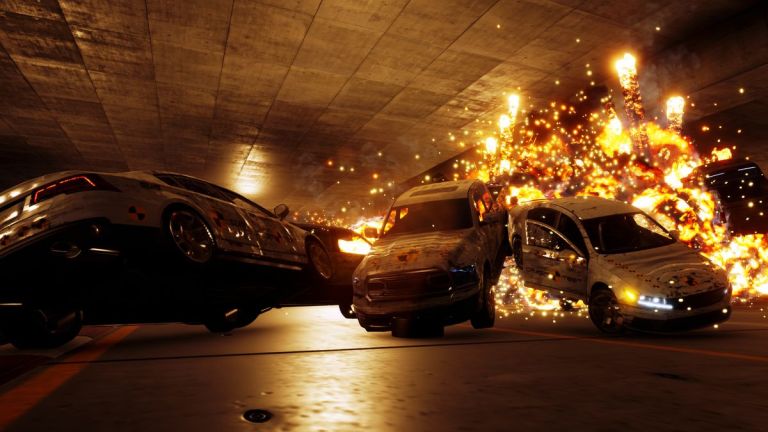 Developer Three Fields Entertainment has announced they are developing a new driving title modeled after Burnout's famous Crash Mode. 
Danger Zone will allow players to skip all that racing rubbish from Burnout games and get right to the high-speed crashes that really made that franchise famous. If it seems odd that a developer would so openly model a game after a mode from another title, keep in mind that Three Fields Entertainment was founded by Fiona Sperry and Alex Ward who previously co-founded Burnout developer Criterion Games. 
As such, Fiona Sperry feels like Danger Zone is simply a case of Three Fields getting back to where they belong. 
"We are going back to our roots by creating a game in a genre we are truly passionate about," says Sperry. "Danger Zone takes what made the Crash Mode featured in 2004's Burnout 3: Takedown so popular and transforms it into an all-new car-crashing, arcade-style puzzle game."
By puzzle game, Sperry seems to be referring to Danger Zone's more focused take on the crash concept. Danger Zone will incorporate the arcade-style Crash Mode made popular by Burnout 3: Takedown by utilizing the same set-up (players have a set amount of time to cause the biggest crash they can muster) but expand upon it by giving gamers more to work with. That means more maps, more items, and more opportunities to score points. Hopefully, this will also result in more chances to carefully construct the largest crash possible. 
Still, the core concept sounds like it will remain largely the same. Players will even be able to explode their car in order to cause additional mayhem with the help of a SmashBreaker that unlocks after you earn a certain amount of points. 
Many have long said that Burnout 3's Crash Mode was good enough to warrant its own game, and it sounds like that's exactly what Danger Zone will provide. If that's something you've been waiting for, Danger Zone is expected to release in May for PlayStation 4 and Windows for $12.99.