News
Cyberpunk 2077: Elon Musk's Cybertruck May Appear
In a curious case of art imitating life, Elon Musk's Cybertruck is rumoured for inclusion in Cyberpunk 2077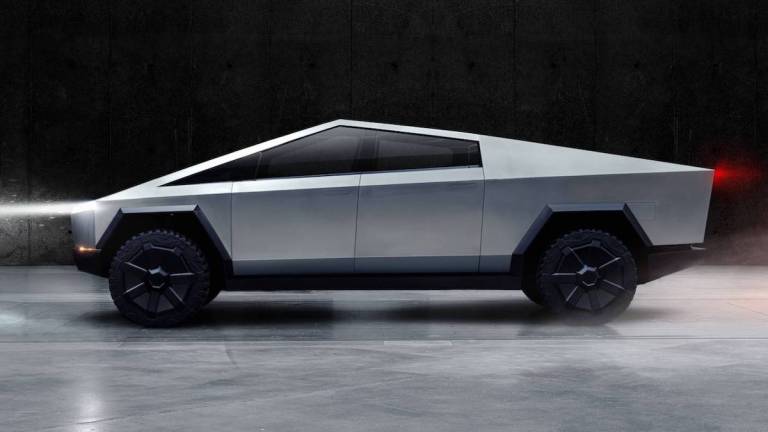 Here's an unexpected piece of news: apparently Elon Musk's newly unveiled Telsa Cybertruck, a futuristic car that has been grabbing a lot of headlines, may appear in CD Projekt Red's upcoming video game Cyberpunk 2077.
Musk revealed the Cybertruck in a live stream from Los Angeles on Nov. 21, with sci-fi fans noting that this is the same month, year, and city in which the original Blade Runner is set. Visually, the shiny vehicle takes clear inspiration from science fiction, and there is even an option to pre-order a "full self-driving option" on the official website.
The future is here, then, albeit a future that seems just as odd as it is impressive. There was even some unintentional hilarity during the presentation – a steel ball was thrown at a window to prove that it was bulletproof, but the window proceeded to ignore the script and smash under the impact.
It was the day after the reveal that the game developers from CD Projekt Red started to engage with the Cybertruck, with the official Cyberpunk 2077 Twitter account responding to a Tweet from Musk to say, "We had a deal, Elon." Musk replied, "See ya in 2077." You can see the exchange for yourself here:
Since this exchange, fans and media outlets have started to speculate that the Cybertruck will appear in Cyberpunk 2077, with the rumor garnering so much attention that it now feels like an inevitability. However, it is worth taking stock for a second here and noting that neither Tesla nor CD Projekt Red has made an official statement to confirm that this art-imitating-life crossover is actually happening.
Of course, CD Projekt Red has already had one big publicity stunt around Cyberpunk 2077: Keanu Reeves was revealed among the game's cast during a big snazzy presentation at E3 2019, with the major movie star showing up to talk about the futuristic RPG and tell a fan that they were breathtaking. Reeves will be playing the digital ghost of a revolutionary/rockstar called Johnny Silverhand.
Clearly, the team at CD Projekt Red isn't shying away from fun ways to build more hype around their upcoming game. And it does seem from an outsider's perspective that Musk is a fan of a publicity stunt, as well. And since CD Projekt Red's interactive experience and Musk's silver vehicle both have sci-fi inspirations and the word "cyber" in common, putting the car in the game does seem like a bit of a no-brainer that would give both parties an extra little publicity boost.
We don't know when the car will launch, but the game has a confirmed released date of April 16.