News
CSGO eSports Schedule, Results, Teams, Prize Pool, and More News
They say CSGO is the world's most exciting eSport. Here's what you need to know about the game's growing competitive scene.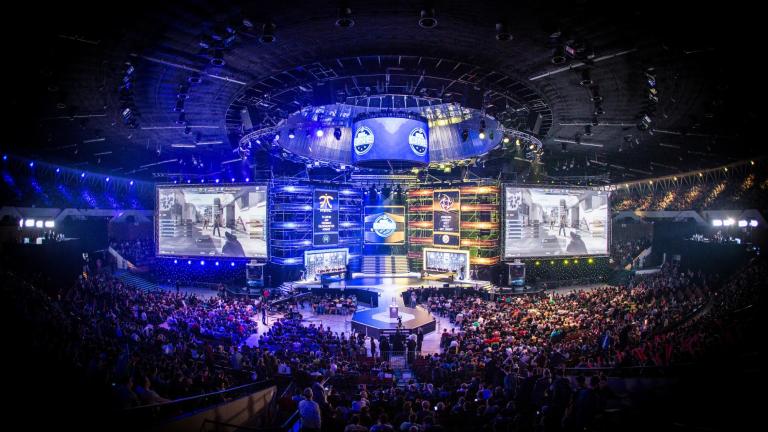 Those that love Counter-Strike: Global Offensive's competitive scene say that it might just be the perfect eSport. It's not hard to see why. 
There are no respawns in CSGO. There are no health packs, special abilities, meta-dependent hero choices, or minions to kill. A CSGO match consists of two teams trying to use precision coordination and expert aim to either disarm/plant a bomb or simply wipe out the opposing squad. Victory in CSGO is rewarded to those teams and players who exemplify an uncommon mastery of some of the purest gaming mechanics in all of eSports. 
It's an easy game to follow, an incredibly difficult game to master, and a hard game not to love once you begin watching it played at the highest levels. 
Fortunately, CSGO's competitive scene is thriving. Recent tournaments have proven that the overall pool of talent who compete in the largest CSGO tournaments has never been deeper. Top teams and players from across the world are finding new ways to shock viewers with their expert play. Victory demands a level of perfection and peak performance that typically results in some of the most amazing matches you'll ever witness. 
Here's your guide to the exciting world of competitive CSGO. 
CSGO eSports Live Stream
Keep up with the biggest CSGO tournaments in the world by watching them here. 
CSGO eSports Schedule
Here's the list of the largest CSGO tournaments set for the current competitive season. In addition to these events are a host of smaller tournaments spread throughout the year. 
June 16-18: DreamHack Open Summer 2018July 3-8 ESL: One Cologne 2018July 12-14: DreamHack Open Valencia 2018Aug 29-Sept: 2 DreamHack Masters StockholmSept 18-Nov 22: ESL Pro League Season 8 NA/EUNov 16-18: DreamHack Open AtlantaNov 30-Dec 2: DreamHack Open Winter 2018Dec 10-16: ESL Pro League Season 8 Finals
CSGO eSports Results
Here are the results from some recent major tournaments:
Esports Championship Series Season 4 – Finals
Winner:FaZe Clan
Runner-Up: Mousesports
ELEAGUE Major: Boston 2018
Winner: Cloud9
Runner-Up: FaZe Clan
StarLadder & i-League StarSeries Season 4
Winner: mouz
Runner-Up: Na`Vi
Intel Extreme Masters XII – World Championship
Winner:  Fnatic
Runner-Up:  FaZe
DreamHack Masters Marseille 2018
Winner:  Fnatic
Runner-Up:  SS
DreamHack Masters Marseille 2018
Winner:  Astralis
Runner-Up:   Na`Vi
ESL Pro League Season 7 – North America
Winner:  Liquid
Runner-Up:  NRG
ESL Pro League Season 7 – Europe
Winner:  mouz
Runner-Up:  NiP
Intel Extreme Masters XIII – Sydney
Winner: FaZe
Runner-Up: Astralis
ESL Pro League Season 7 – Finals
Winner: Astralis
Runner-Up: Liquid
StarSeries & i-League CS:GO Season 5
Winner:  Na`Vi
Runner-Up: NRG
Full results from all known global tournaments can be found here.
CSGO eSports Format
CSGO's competitive format has the strange distinction of being fairly simple and sometimes frustratingly complicated.
In lieu of a formal league, many of CSGO's largest competitions are divided into individual tournaments. These tournaments are typically broken down into Majors and Minors. The big difference between the two is that Majors offer larger ($100,000 plus, typically) prize pools. However, many tournaments employ an open format that allows major and minor teams to compete on roughly the same playing field. Of course, the largest teams may receive formal invites from the tournament's organizers. 
However, there are a few Majors throughout the year that are endorsed by Valve. These tournaments often offer $1,000,000+ prize pools and typically feature only the top teams in the world as determined by Valve and the tournament's organizers. Said teams typically consist of previous Majors and Minors competitors/winners as well as teams that qualify through online and offline play. 
So basically, it's all about the Majors and especially the Valve-endorsed Majors tournaments. However, Minors are a great way for pros to earn extra money and for smaller teams to boost their reputation. 
CSGO eSports Prize Pool
Prize pools can vary pretty wildly in CSGO as there isn't much of a formal league play structure. Smaller events may offer $25,000 dan a little reputation. Majors, though, can offer anywhere between $100,000 and $1,000,000 depending on their size and affiliation. 
CSGO eSports Top Teams
Because CSGO works off a tournament by tournament format, there isn't really an officially recognized "ranking" of the top teams. However, some of the generally recognized best teams in the world at the moment include:
– Cloud9
– Astralis
– FaZe
– Fnatic
– Gambit 
– SK Gaming
– Virtus.Pro
Again, though, part of the fun of CSGO tournaments is the very real possibility that any team can win any event at any time.