Features
Crowdfunding Friday: Joe Dante, superheroes & capitalist dwarves
A thriller produced by Joe Dante? A superhero comic? Capitalist dwarves? They're some of the crowdfunding projects we've picked this week...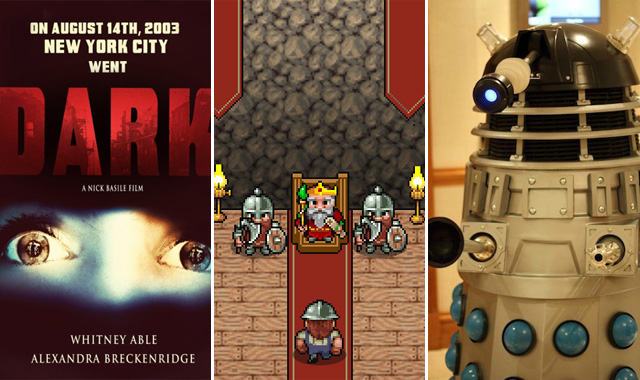 Although it's our job to highlight the shiny new crowdfunding projects that emerge onto the internet each week in this post, it's heart warming to see some of the items we've covered in the past get the funding they require.
Some of you may recall that games industry legend Mel Croucher was looking for an entirely reasonable £9,800 to complete his sequel to the eccentric 80s oddity Deus Ex Machina, which would again tell Shakespeare's seven ages of man using graphics, weird sounds and the voice of Christopher Lee.
We were pleased to see that Deus Ex Machina 2 managed to exceed its goal recently, and with four days to go at the time of writing, has managed to amass just under £11,000 – not bad for a niche project based in the UK, where donations are often more difficult to drum up than those in the US.
It's exciting to see another eccentric project on the cusp of meeting its target, too. Photographer Joseph DR OLeary is within a few brass farthings of acquiring the $27,000 he wants to publish his coffee table book of bearded men. A fascinating visual guide to the state of the world's facial fungus, it's fascinating and disturbing in equal measure. Unfortunately, we won't be able to find out whether Brian Blessed and Alan Moore made it into the final selection of 130 photographs until the book gets here.
Anyway, onto this week's crowdfunding selection – a smorgasbord of psychological terror, superheroes, geek databases and capitalist dwarves…
Dark
Director Joe Dante knows a thing or two about working his way up from the lower echelons of the film industry, starting as he did as an editor for Roger Corman before forging ahead with such early movies as Hollywood Boulevard, Piranha and The Howling.
Dante serves as executive producer on this Kickstarter project, a psychological thriller set during the New York City blackout of 2003. And just as Roger Corman helped him get his start as a director, so Dante's using his fame and expertise to help Nick Basile get Dark, his first feature, into production.
About a model with a fear of the dark and her growing paranoia as Manhattan's lights shut off, the film's a nightmarish character piece influenced by some of cinema's finest thrillers. Whitney Able, who starred in Gareth Edwards' brilliant Monsters, is in the lead role, while her co-star is True Blood and American Horror Story's Alexandra Breckenridge.
An intriguing concept with a sterling pedigree, Dark's well worth your consideration – and if you're feeling flush, there's some great Dante memorabilia up for grabs if you're willing to pledge more than $75, including Blu-rays of The Howling signed by the great director himself.
Electric Man
It's not often that a pair of filmmakers end up launching a comic book by mistake, but that might be what's about to happen to Dave Barras and Scott Mackay if this IndieGoGo campaign is successful. In 2011, the pair made a low-budget film called Electric Man, which was all about a comic collector who's after an incredibly rare and expensive first issue of the title comic. Closely modelled on the adventures of Superman circa 1938, Electric Man quickly took on a life of his own; as the filmmakers took their film on the festival circuit, the same question came up: when can we see the real comic?
Inspired by this, Barras and Mackay aim to raise $10,000 to write, illustrate and print an ink-and-paper version of Electric Man, with art by Graham Manley (Judge Dredd) and colouring by Jamie Grant (All Star Superman). But that first issue will only be the start: if it's backed, readers will be able to help forge the look and events of the character's future, from choosing which artists they'd like to see in charge, and where they'd like to see the story go. It's a novel idea, and could create a groundswell of support around the Electric Man movie, which is out on DVD soon.
-DwarfCorp
This particular Kickstarter project had us at the phrase, "Manage a colony of ruthless capitalist Dwarves". And by the looks of it, DwarfCorp has a lot more going on than a wacky name and premise. A kind of real-time strategy and management simulation game, DwarfCorp casts the player in the role of a diminutive industrialist, who sends out his dwarves across the planet to harvest its resources. Whether they're workers with pickaxes, or soldiers with weapons, it's the dwarves' job to build settlements in far-off places, mine the minerals lurking there, and send them back to the motherland in hot air balloons, all the while defending themselves from angry locals.
It's a fun concept dressed up with some really cute lo-fi graphics, which look like a cross between Minecraft and Braid – with added dwarves, obviously. It's an ambitious game for its tiny two-man team, which is made up of two students from Carnegie Mellon University. It looks as though they've managed it, though, with the video above showing what appears to be an early yet working build of the game.
If they can incorporate all the elements they talk about on their Kickstarter page, this could be a cracking little game, and perfect for satisfying the hidden megalomaniac in all of us.
UnCONventional
Whether you're into sci-fi, fantasy, cosplay or beekeeping, you can't beat a good fan convention. But the problem is, how do we keep up with the sheer volume of geek-related events going on at any given time? That's where unCONventional comes in – if the Kickstarter campaign's successful, it'll provide a handy online database of all the conventions and fan events going on, wherever they may be on the planet.
This means that, irrespective of whether you love Doctor Who, comics, Lord Of The Rings or dressing up as a Sailor Moon character, you'll be able to find something near you to sate your inner geek. It's a project well worth looking into, and with a low goal of just £3,000, it has every chance of getting the support it needs. Now, I wonder if they'll include a category for beekeeping fan conventions…