Features
Crowdfunding Friday: horror, anime, games and comics
Looking for some geek-friendly crowdfunding projects to support? Then here's a selection of worthy things for your consideration...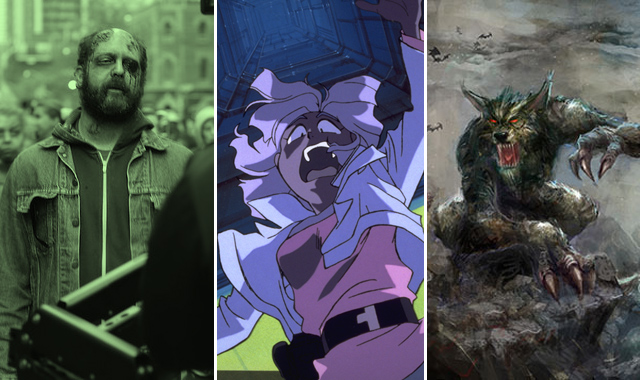 NB: The pitch video for Why Horror contains some gory scenes which some bosses might describe as Not Safe For Work. Just thought we'd let you know.
We may have overshot Halloween by 24 hours, but that hasn't stopped us including a couple of horror-themed projects in this week's crowdfunding selection. And on the topic of horror, there's still just about time (if you've read this early enough on a Friday) to get involved in director Stuart Gordon's Nevermore Kickstarter campaign.
A low-budget film which will see Gordon reunite with the great Jeffrey Combs for an adaptation of Edgar Allan Poe's immortal poem, Nevermore still has a way to go before it hits its $375,000 goal – but if there's a last-minute swell of support, Nevermore may just sneak over the line.
In the meantime, here's this week's pick of crowdfunding delights – which begins with a documentary about the enduring success of the horror genre…
Why Horror
For this writer, 2000's The American Nightmare may well be the finest documentary about the explosion of US horror cinema of the 70s and 80s. It's a fascinating subject that deserves wider exploration, from the wonderful genre films we've seen emerge from countries like Italy, Spain and Japan over the past few decades, and  also horror's rise to prominence in videogames and television.
Why Horror? aims to do exactly this, with journalist and gore obsessive Tal Zimerman exploring our cultural fascination with the dark and the macabre, which predates not only cinema, but also the printing press. With contributions from some of horror's leading lights, including George A Romero, Don Coscarelli, Barbara Crampton and the UK's own Ben Wheatley, as well as psychologists and other academics, it promises to be both an in-depth examination of the genre and a chance to look back over some classic movie moments.
As you can see from the pitch video above, a fair amount of the work's already been done on the film. We particularly like Carpenter's short, snappy summation of horror's appeal: "Do we need it? Probably not. But I wouldn't want to live in a culture without it…"
Ghosts 'N Goblins – Demon World
With the Mega Man legacy being kept alive by Keiji Inafune's Kickstarted Mighty No 9, and now the spirit of Ghosts 'N Goblins in the process of revival courtesy of this crowdfunding campaign, it seems that you're more likely to see old Capcom games being continued outside the company than within it.
If you're old enough to remember Ghosts 'N Goblins, you'll probably also recall how brutally challenging it was: a side-scrolling, supernatural-themed run-and-gun game where the player was assaulted from all sides by a constant onslaught of zombies and demons. So much as a touch from one of these ghouls would leave the brave knight Sir Arthur shorn of his armour, and forced to run through the rest of the level in his underpants.
Game designer Monty Singleton plans to revive Ghosts 'N Goblins for a new, high-definition adventure, which will retain the same quick-fix gameplay while sympathetically updating its graphics and sound. At this early stage, Capcom have stated that it will only hand over the licence to the Goblins name if the game's up to scratch, so the pressure's on for Singleton's team to put together the best platformer they possibly can. Fortunately, that team comprises some decent industry talent, so there's every chance they'll be successful in their goal. 
Bubblegum Crisis on Blu-ray
Launched 25 years ago, AnimEigo provided one of the earliest supply lines of anime from Japan to America. At a time when Japanese animation was still a fringe interest in the west, AnimEigo secured such titles as Urusei Yatsura (still one of the funniest animated TV shows in history, as far as I'm concerned), Kimagure Orange Road and Oh My Goddess!
One of AnimEigo's key releases was the Bubblegum Crisis OVA series, a stunning cyberpunk anime with character designs by Kenichi Sonoda (Riding Bean, Gunsmith Cats), and some lavish animation courtesy of Artmic. Twenty-five years on from AnimEigo's US launch of Bubblegum Crisis on VHS tape, the company's turning to Kickstarter to fund an Ultimate Edition Blu-ray set – a lavish collection of HD episodes and extras.
The campaign's already soared through its $75,000 minimum goal within a matter of days, but it's still worth getting involved if you're an anime otaku – if AnimEigo reaches its $100,000 stretch goal, then backers will be able to decide what additional features the cash will be spent on, whether it's creator interviews or a shinier box for all the discs.
The pitch video above shows off a snippet of what Bubblegum Crisis looks like in HD, and also showcases what was so brilliant about Japanese animation in the 80s and 90s – it's all about rhythm, timing and breathtaking slabs of colour.
Save Neil The Horse
Here's a quirky little campaign to round off this week's collection: a reprint of Canadian artist Arn Saba's 80s comic, Neil The Horse. Pennsylvania-based publishing house Hermes Press, who you may know for their reprints of The Phantom, Buck Rogers and Dark Shadows, have begun restoring the pages, and hope to use the $15,000 of funding to get Neil The Horse back in print.
If you've never heard of the comic before, you can find out more about it on Hermes' IndieGoGo page, while $60 will net you a copy of the finished hardback book. For connoisseurs of the unusual and offbeat, it could be well worth a look.