Features
Crowdfunding Friday: Gerry Anderson sci-fi and more
This week's crowdfunding selection includes Gerry Anderson's Gemini Force One, a Tom Savini horror flick, and an RPG set at a comic con...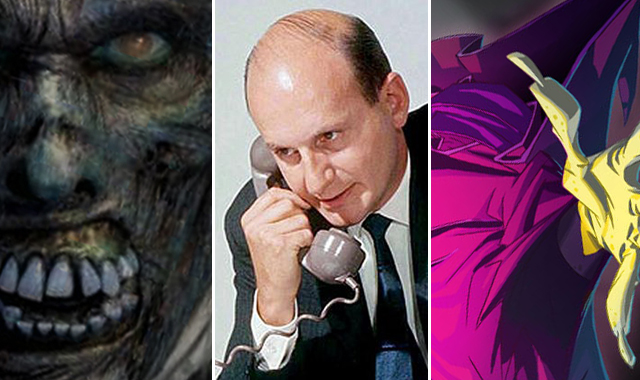 It's always great to see a crowdfunding project not only get the requisite backing, but also come to fruition so successfully. The 25th September saw the launch of A Brief History Of Time Travel, the six-part audio sitcom written by Seb Patrick and James Hunt (whose names may sound familiar thanks to their fine pieces of work for this very website).
Having exceeded their £3,000 goal by more than two grand late last year, the project was put into production, with the distinctive tones of Robert Llewellyn providing the voice of the Narrator, and Jon Shaw, Henry Imbert, Joanna Eliot and Ian Symes cast as the members of an enforcement agency fated to leap through various moments in history thanks to a malfunctioning time machine.
A Brief History Of Time is available to download now from its website, where you'll also find some great accompanying character illustrations courtesy of Brittney L Williams. The project's proof that, although getting an original, creative idea off the ground can take an awful lot of hard work, determination and sleepless nights, the results can be hugely satisfying – particularly if there's an appreciative crowdfunding community to lend their support through the early stages.
This week's Crowdfunding Friday selection contains a variety of ideas, from a zombie movie helmed by a special effects legend to a handy comic book app. But first, we kick off with a potentially brilliant collection of stories from the pen of the late, great Gerry Anderson…
Gerry Anderson's Gemini Force One
For most of us, the work of the late, great Gerry Anderson will need no introduction at all – with his work ranging from Fireball XL5 and Thunderbirds to Space 1999 and Captain Scarlet, he was a true force for good in geek TV and film.
Although Gerry Anderson sadly passed away last year, his ideas are still loved and discussed by his legion fans, and this Kickstarter project's a new attempt to keep his legacy going. Gemini Force One began as a series of science fiction stories penned by Anderson, and the late creator's son Jamie aims to get them published as a series of books, with a view to getting them turned into a TV series or even a movie in the future.
It's a great-sounding project, full of the spirit of adventure and imagination that marked out Anderson's work, and it's more than worth your support. And with just £4,000 to go before it reaches its £24,350 goal at the time of writing, it'll only take a little bit more of a financial push to get this exciting series in print.
Tom Savini's Death Island
Responsible for some extraordinarily imaginative and downright grotesque special effects across several decades of great genre movies, Tom Savini's a true veteran of make-up effects. Also appearing as an actor and stuntman in several films – including From Dusk Till Dawn and Planet Terror – he's also turned his hand to directing on occasion, including the 1990 remake of Night Of The Living Dead.
Death Island is his latest project, a black-and-white indie zombie horror that aims to put Savini's wartime experiences to chilling use – the scene he describes in the pitch video above sounds particularly effective.
Admittedly, the amount of money Savini's asking for isn't exactly minimal – $1m – but with his experience and imagination behind the film, it has every chance of being a great horror film. There are some great rewards for backers, too, including signed pictures and other memorabilia, so it's undoubtedly worth a look if you're a devotee of classic horror.
Comic ConQuest
Here's the kind of videogame project that crowdfunding was made for – a quirky, fun concept you wouldn't find anywhere else. A great team of artists and designers have come together for Comic ConQuest, a handheld and browser-based action RPG set at a comic convention. As well as tactical combat, there are trivia battles, where the superior reservoir of geeky knowledge wins the day, and cameos from real-world cos-players, who can be hired to join your expanding team of heroes.
The artwork, courtesy of Joel Carlson and Jeff Matsuda, looks fresh and appealing, and the idea as a whole is a great twist on the tactical RPG genre. The team's asking for just $20,000 for Comic ConQuest, and with its obvious cross-over appeal,  there's no reason why the project shouldn't get the backing it deserves.
Zap-Kapow comic book price guide
We conclude this week's selection with a comic-related project of a very different kind: Zap-Kapow, an app dedicated to the valuation and cataloguing of comic book collections. Already an established product on the iOS App Store, creator Steve Roop is looking for $65,000 of funding to first port across a version of the app for Android phones, and also to expand it with some potentially exciting new features. These include a price listing which updates in real time according to recent sales figures in auctions, an ability for users to compile lists of the comics they're looking for and the spare issues they're willing to trade, plus a 'point and identify' function which will allow fans to take a picture of a comic and find out all about it with a single photograph.
For collectors with entire boxes of comics stashed in their houses, this could make an already decent app downright essential – and with a $5 pledge providing access to the programs,  Zap-Kapow should provide the user-friendly alternative to those hulking paper-and-print comic book guides of old.
Follow our Twitter feed for faster news and bad jokes right here. And be our Facebook chum here.