Features
Crowdfunding Friday: Garbage Pail Kids and stop-motion
This week's Crowdfunding Friday features a Garbage Pail Kids documentary, a British stop-motion drama, and much more...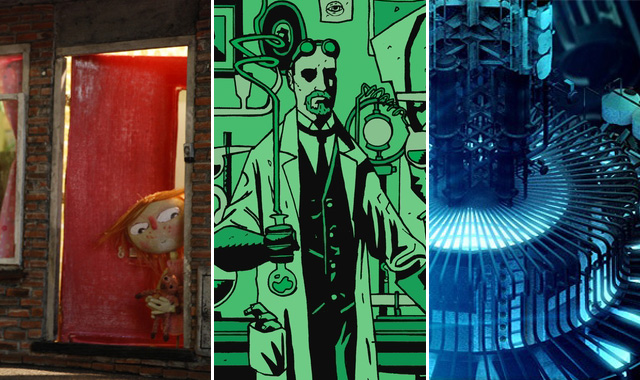 Is there a scientific formula for crowdfunding success? We haven't learned of one yet, but if there's one thing we've learned over the past few weeks, it's that a good-quality board game or miniature project will have donations flooding in.
Just look at the hugely warm response to Gamezone Miniatures' 25th anniversary revival of the classic fantasy board game project, HeroQuest, which has managed to garner almost 10 times its minimum funding goal within 24 hours of its launch. Then there's Prados Games' Aliens Vs Predator: The Miniatures Game, which made  more than £270,000 more than its £35,000 target – no doubt thanks to the spectacular-looking Alien and Predator models that come packed into its handsome box.
The moral appears to be: if you offer a tangible and desirable reward for your target audience, then the funds are sure follow. Just ask William Shatner, who recently designed his own watch and funded it on IndieGoGo. Ten days into the campaign, and the former Enterprise captain has already exceeded his $75,000 goal by more than $250,000. It's a pleasant looking watch, but we were half hoping that a Shatner rendition of Mr Tambourine Man would blare out of the thing when the alarm goes off. Never mind.
Here's this week's crowdfunding selection, which begins with a unique-looking animated drama from the UK…
Three's A Crowd
We've seen some great stop-motion films crowdfunded over the past few months, and Three's A Crowd promises to be something a little different. Using stop-motion to tell a 10-minute domestic drama, Trevor Hardy's project looks utterly charming. Hardy's already built the sets and models his story needs, and he just needs a bit of funding to pay or voice actors and post-production.
Hardy's produced lots of animated short films before, and you can see some examples of his work in the showreel below – we particularly liked the exploding cow. With some great rewards for backers, Three's A Crowd is well worth your consideration.
30 Years Of Garbage: The Garbage Pail Kids Story
The Garbage Pail Kids was the kind of phenomenon that delighted mischievous children and horrified their parents. A series of trading cards launched in 1985, and designed to parody the Cabbage Patch Dolls which were hugely successful at the time, The Garbage Pail Kids' anarchic, macabre illustrations were avidly collected and frequently confiscated by teachers.
Designed to coincide with the cards' 30th anniversary in 2015, 30 Years Of Garbage will be a documentary devoted to the story behind the phenomena, with contributions from Garbage Pail Kids artists Art Spiegelman (who also created the beautiful graphic novel Maus), Len Pound and Jay Lynch.
The pitch video above gives an idea of what the finished film will look like, and it's clear that project founder Sean Tiedeman and his team have already put in a lot of hard work before turning to Kickstarter. With the money raised going straight back into production, there are plenty of reasons to back the campaign, including new parody cards created by the original artists, T-shirts, and other memorabilia.
Stasis
Although described as a 2D isometric adventure game, there's nothing retro-looking about Christopher Bischoff's Stasis. A point-and-click sci-fi horror story influenced by classic games like The Dig and Monkey Island, Stasis has all the atmosphere and polish of something relatively modern like Dead Space, and it's remarkable to think that it's the product of a small indie team led by Bischoff and just two other core members.
Stasis is already in a state where you can download its alpha version and give it a try, since Bischoff and his developers have already spent three years putting it together. This means that, although the project's goal is a not inconsiderable $100,000, we can at least be sure that Stasis already has the makings of an excellent game – it just needs the funding to add a greater level of polish, with cut-scenes, an orchestral soundtrack and professional voice-acting. For fans of survival horror games, this is one project well worth keeping a slightly nervous eye on.
Memoirs Of The Mysterious
Like The Garbage Pail Kids in the 80s, EC Comics were eagerly read by their often young readers and reviled by parents in the 1940s and 50s. Yet peel away the controversy, and comics like Tales From The Crypt, The Vault Of Horror and other, similar anthologies were full of wit and imagination, with stories very much in the tradition of Poe and other great American writers of the weird.
Memoirs Of The Macabre is a new comic anthology in the vein of those notorious 40s and 50s comics, as well as TV shows such as The Twilight Zone and The Outer Limits. The 60-page volume will collect together 10-or-so stories of science fiction and horror, full of mad scientists, suspicious deaths and bizarre twists of fate. We've always had a soft spot for anthology comics, and Memoirs Of The Mysterious harks back to a unique form of storytelling.
Follow our Twitter feed for faster news and bad jokes right here. And be our Facebook chum here.