Features
Crowdfunding Friday: dreams, games and illustrated Poe
This week's Crowdfunding Friday has a dream theme, as we bring you a selection of film and gaming projects with a surreal edge...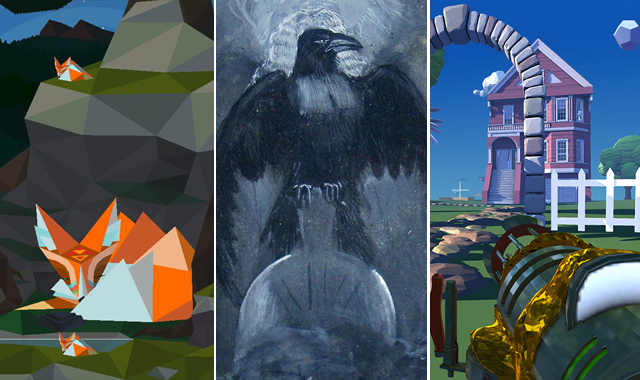 The sheer volume of crowdfunding projects appearing online every week presents a bit of a problem. How do you choose just three or four to highlight in a brief post like this? Well, this time, we've come up with a cunning plan – we've chosen some crowdfunding offerings that all based around the theme of dreams. Or at least feel like they have something to do with dreams. Yes, it's a bit of a tenuous link, but it's better than nothing.
This week's selection includes two very different but extremely worthy videogames, a science fiction film that looks like an arthouse Inception, and a book that collects together Poe illustrations by an under-appreciated Victorian artist.
Secrets Of Raetikon
There's certainly  a surreal, dreamlike atmosphere to this one-of-a-kind action adventure from indie developer Broken Rules. Set in a version of the Alps, brought to life using colourful polygons, Secrets Of Raetikon sees you fly around the mountains collecting glowing objects and finding out more about the mysterious people who live among the peaks.
If Broken Rules' name sounds familiar, that might be because they previously created the mind-bending platformer And Yet It Moves. Unusually for a crowdfunding project, Secrets Of Raetikon comes to Kickstarter in a semi-completed state; currently at the open alpha stage, the game requires a final $40,000 to get it over the finishing line.
As you can see from the video above, it's a beautiful-looking game, with a tone vaguely reminiscent of Journey, but with a 2D art style that is entirely its own. The best news? If you decide to back the game, you'll get to play the early alpha version right away – just $10 gets you immediate access.
Serpent Dreams
From a game inspired by dreams, we move on to a film project about manipulating them. Writer and director William Hart is looking for $2,500 to fund his thesis movie, called Serpent Dreams. It's about two scientists and their research into using dreams as a means of testing scientific theories – one is sedated in order to put her into a lucid dream state, while the other one views the sleeper's dreams using her scientific instruments. The idea is that, because there are no physical limits in the realm of dreams, otherwise impossible physics experiments can be carried out.
At the time of writing, the project has just under two days left to get the last few dollars it needs – so there's just time to contribute to this interesting little film, which sounds like a cross between Inception and Primer.
Scale
We're back in the realm of videogames now, for a Portal-inspired game that takes the first-person puzzling of Valve's seminal title, and takes it into new and unexpected territory. As a faintly maniacal-sounding scientist holed up in prison, your job is to escape and find your beloved cat. To help you along the way, you have a unique, Portal Gun-like device that can take the mass from one object and inject it into another – in other words, you can both shrink and enlarge objects with the press of a button.
What's most remarkable about Scale is that the weapon appears to work on absolutely everything in any given level – if you so choose, you can point the gun at your feet and reduce the entire map to the size of a matchbox. The video above shows some of the more practical applications for your Scale gun: you can enlarge a butterfly and ride it like a horse, or reduce otherwise unwieldy objects (houses, treasure chests) to a size small enough to fit in your pocket.
As if the mechanic wasn't an intriguing enough idea, the presentation looks great, too: its sun-drenched, simplified backgrounds and objects have the beautifully naive look of something like Katamari Damacy.
Game designer Steve Swink's asking for $87,000 to get Scale into production, and given just how much thought and planning that's gone into the project already, that sounds like a bit of a bargain to us.
James Carling's The Raven
"And his eyes have all the seeming of a demon's that is dreaming…" Whether you're a Poe fan, or you only know his famous poem from a Treehouse Of Terror episode of The Simpsons, you'll almost certainly find at least one line of The Raven familiar. First published in 1845, it's being inspiring writers, artists and filmmakers ever since, not least the Victorian pavement artist, James Carling.
A huge devotee of Poe, Carling created 43 illustrations based on The Raven in the 1880s, and these still survive in Virginia's Poe Museum. With a shadowy, intricate style that recalls Gustav Dore and Goya, Carling's illustrations are a stunning interpretation of Poe's work.
Now, the Poe Foundation is turning to Kickstarter to fund a book that collects these wonderful illustrations together in one volume. What's more, the book's for a more than worthy cause: the $60,000 from Kickstarter will go towards the restoration and preservation of the original artworks, which are now well over a century old and beginning to deteriorate.
With a pledge of $50, you can therefore get a copy of this potentially great book, and preserve the original illustrations for future admirers at the same time.
Follow our Twitter feed for faster news and bad jokes right here. And be our Facebook chum here.